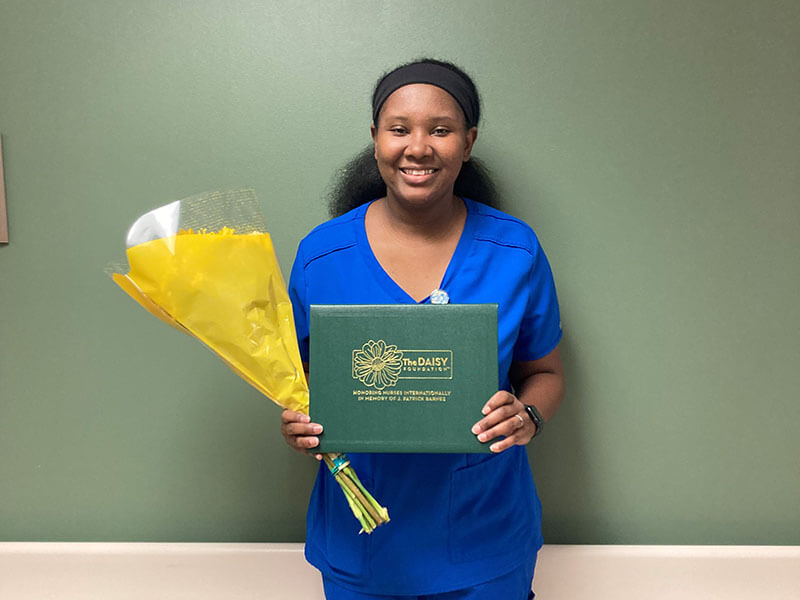 Atrium Health Wake Forest Baptist Wilkes Medical Center Atrium Health Wake Forest Baptist Wilkes Medical Center named nurse NicKayla Staley as the hospital's latest DAISY Award winner on April 26, 2023.
The DAISY Award is a nationwide program that rewards and celebrates the extraordinary clinical skill and compassionate care given by nurses every day. Wilkes Medical Center recognizes one of its nurses with this special honor every quarter. Each honoree receives a banner, certificate, DAISY Award pin and a hand carved "A Healer's Touch" stone sculpture.
"Ever since I was a little girl, I have always dreamed of becoming a nurse," Staley said. "I love helping people and have always been one to jump in and help however I can. I wanted to become a nurse so that I could express my passion through patient advocacy. Many people think nursing is just doing assessments and passing medications, but there is so much more to it than that.
"Becoming a nurse has allowed me to not only help patients get back to their highest level of functioning, but it has also taught me to advocate for them when they don't know how," she continued. "Caring for and advocating for patients is the most rewarding part of being a nurse because of the positive impact it has on the patients."
"NicKayla is a very caring nurse," said Melissa Wyatt, Staley's manager, "She is a hard worker and is always willing to help her teammates. She is always smiling; her patients and coworkers love her. She communicates well with patients when they are not feeling their best; she carries all the aspects of what you would want in a nurse and in a coworker, such as kindness, compassion, and empathy. As NicKayla's nurse manager, I am very proud of her accomplishment in winning the DAISY award."
The next DAISY Award winner will be announced in July 2023.