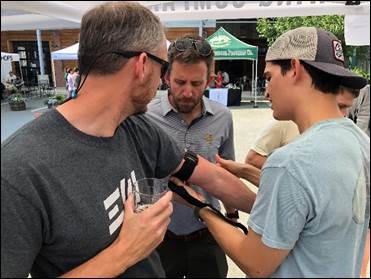 The Triad has so many activities to enjoy the outdoors, from hiking and camping to floating down the river. If you plan on getting outside this summer, it is important to be prepared just in case something goes wrong.
Join Wake Forest University School of Medicine emergency medicine faculty, resident physicians and medical students who are helping train people to do just that.
On Wednesday, May 24, the annual Bandages and Brews: Stayin' Alive in the Outdoors event will be held at Fiddlin' Fish Brewing Company, 772 Trade St. NW, Winston-Salem from 5:30 to 7:30 p.m.
Attendees will receive practical advice on building a first aid kit, and will learn about lightning and drowning, how to treat sprains, strains, fractures and burns as well as ways to stop severe bleeding.
"This is a free and fun event to ask questions, get hands-on instruction and be prepared for anything Mother Nature may throw at you," said Dr. Chris Davis, assistant professor of emergency medicine at Wake Forest University School of Medicine and an emergency medicine physician at Atrium Health Wake Forest Baptist. "We invite those in our community to come learn basic, helpful and often life-saving skills so we can safely enjoy all the outdoor activities our region has to offer and avoid a trip to the emergency department."
In addition, staff from Great Outdoor Provision Company and community organizations will be on hand to provide information on local opportunities to get out and enjoy the great outdoors.
This is a free event, but those who wish to attend should register here.
Media contacts:
Jenna Kurzyna, jkurzyna@wakehealth.edu
Joe McCloskey, jmcclosk@wakehealth.edu