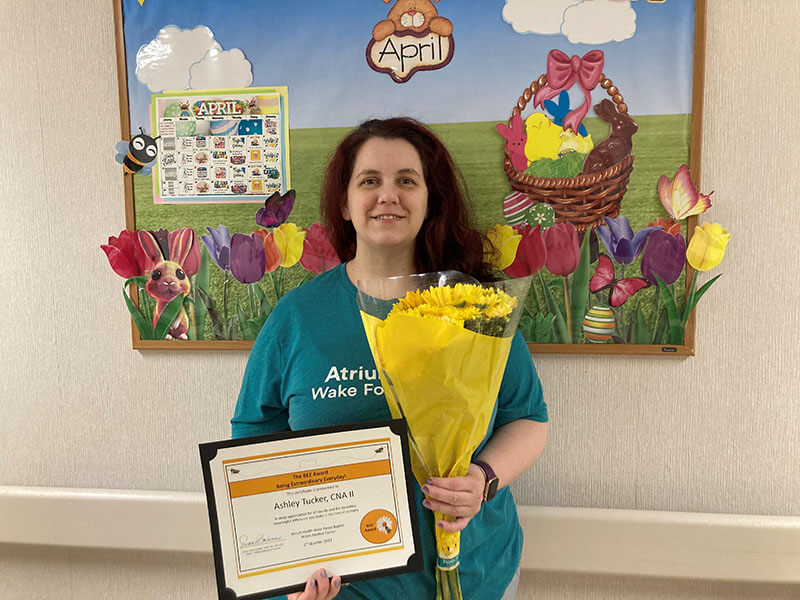 Atrium Health Wake Forest Baptist Wilkes Medical Center has announced its most recent BEE Award Winner, Ashley Tucker, a certified nursing assistant (CNA).
The BEE Award recognizes team members outside of nursing and coincides with the DAISY Award, which honors nurses. The BEE award was created because, just as in nature, bees are loyal and hardworking. The bee cannot exist without the daisy and the daisy cannot exist without the bee.
When asked why she became a CNA, Tucker said, "I was raised in a medical family by my grandmother, Jeanette Barker, who was one of the first CNAs before being a CNA was even really a thing. My mother, Anya Byrd, raised me in medical offices from a young age. As a teenager, I worked as a candy striper at a hospital and then as an adult, I found my true calling as a CNA. Thirteen years later, I am still happily working at Wilkes Medical Center continuing what I feel that I was truly led to do," she continued. "I enjoy caring for others and working closely with nurses to provide excellent patient care."
Tucker's manager, Rhonda Jones, said, "Ashley goes beyond just the basic care of her patients, she looks out for their safety, and what brings them joy each day. One important aspect of her care is that patient healing is about keeping the patient motivated both mentally and physically. This is true patient centered care."
The next BEE award winner will be announced in July 2023.