Atrium Health Wake Forest Baptist Wilkes Medical Center named Brittney Baird, R.N., as the hospital's latest DAISY Award winner on July 20, 2022.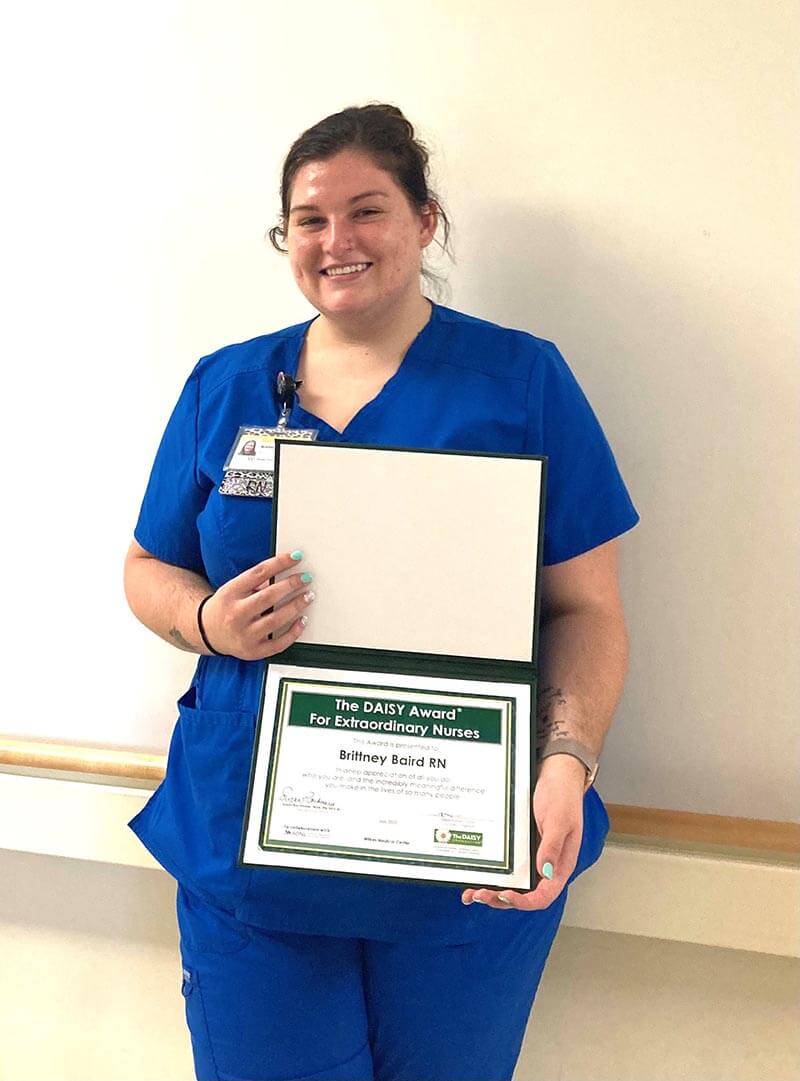 The DAISY Award is a nationwide program that rewards and celebrates the extraordinary clinical skill and compassionate care given by nurses every day. Wilkes Medical Center recognizes one of its nurses with this special honor every quarter. Each honoree receives a banner, certificate, DAISY Award pin and a hand carved "A Healer's Touch" stone sculpture.
"When I was in 8th grade, I kept going between wanting to be a teacher or a nurse," Baird said. "That February, my uncle had to have back surgery and was sent home on subcutaneous blood thinner shots that needed to be given twice a day. My mom was unable to give them, so I was taught how to give shots at age 13. It snowed and school was cancelled most of that month, so I stayed with my uncle and ensured he took his shots on a regular schedule and got him things that he needed during the day. After administering his injections, I felt like I was helping him and making a difference in his healing. During his recovery I made up my mind that I wanted to pursue a career in helping people. July of this year marked four years of loving my career that my uncle helped me realize was for me. I have him to thank, along with my family for pushing me to do my best throughout school and especially during nursing school."
"Brittney has received multiple compliments regarding her care and teamwork from patients as well as her fellow team members," said Jason Hamby, Baird's manager. "Since joining our emergency department team in March, she has been a valuable addition and asset to our department."
The next DAISY Award winner will be announced in October 2022.