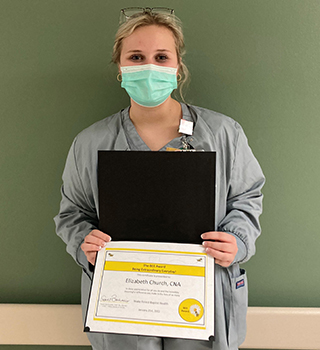 Atrium Health Wake Forest Baptist Wilkes Medical Center has announced its most recent BEE Award Winner, Lizzie Church, a certified nursing assistant (CNA).
The BEE Award recognizes team members outside of nursing and coincides with the DAISY Award, which honors nurses. The BEE award was created because, just as in nature, bees are loyal and hardworking. The bee cannot exist without the daisy and the daisy cannot exist without the bee.
When asked why she became a certified nursing assistant (CNA), Lizzie said, "Being a CNA in nursing school is challenging at times, but it is also a very fulfilling job. I became a CNA because it is the first step towards becoming a nurse, and I love that I get to be with people and help them through some of their worst days. I am so happy that I was even nominated for this award, and very thankful that there is an award that shows appreciation towards nursing assistants."
Lizzie's manager, Brandy Edmiston, RN, CCRN, said, "Lizzie is a fantastic CNA! She is always very courteous and takes impeccable care of each of the patients. No matter how challenging the patient, or the situation is, she is always patient and never gets visibly frustrated or shaken and always maintains an upbeat positive attitude. She will go out of her way to help and assist to each teammate! She has been an invaluable addition to our team!"
The next BEE award winner will be announced in April 2022.