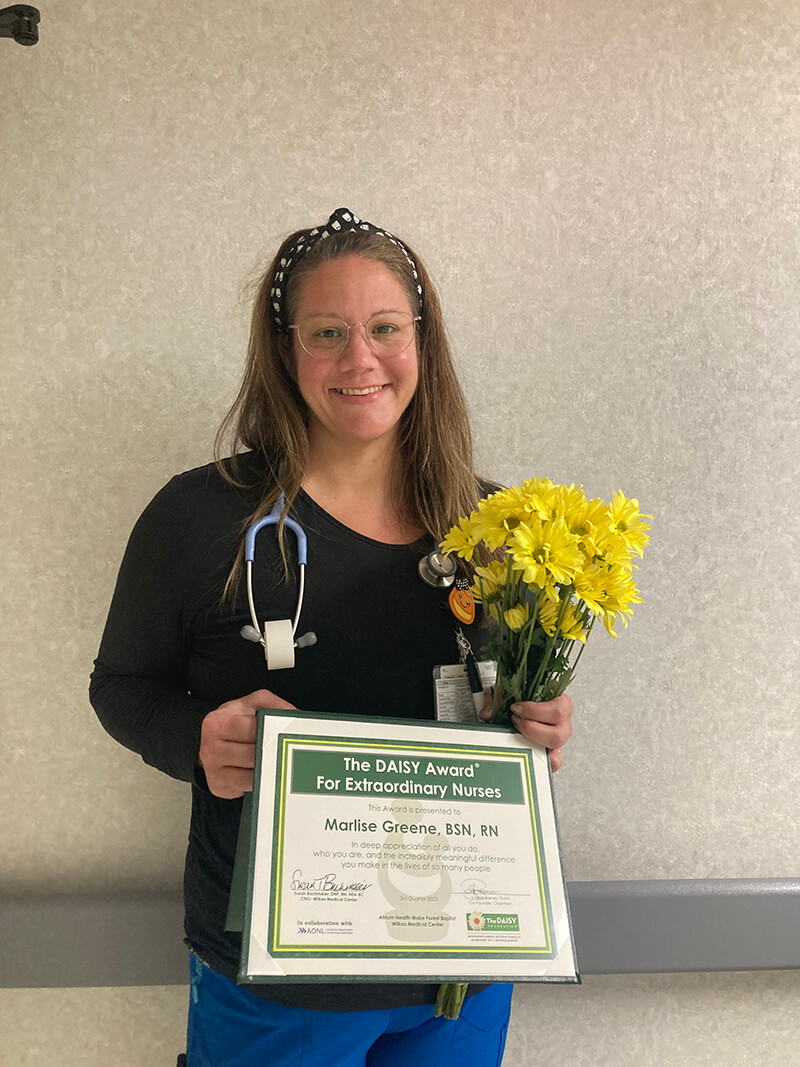 Atrium Health Wake Forest Baptist Wilkes Medical Center named nurse Marlise Greene as the hospital's latest DAISY Award winner on October 30, 2023.
The DAISY Award is a nationwide program that rewards and celebrates the extraordinary clinical skill and compassionate care given by nurses every day. Wilkes Medical Center recognizes one of its nurses with this special honor every quarter. Each honoree receives a banner, certificate, DAISY Award pin and a hand carved "A Healer's Touch" stone sculpture.
"When I was little, I loved the movie "Bad Medicine", a movie about a guy who studies to become a doctor in Mexico, and basically falls in love with treating people who have little to no access to healthcare, said Greene. "So, I knew from a young age that that's what I wanted to do, become a doctor. I graduated high school with my CNA and started working right away at a hospital. It was then I realized that I wanted to be a nurse. I wanted to spend time with patients, be an advocate for patients, and just listen to them talk. I work with an amazing team, and never get through a shift alone. I see everyone here as an equal and this is what makes nursing fun and manageable to me."
"Marlise is a very compassionate nurse and a phenomenal patient advocate," said Brandy Edmiston, Greene's manager. "She is always willing to go the extra mile for her patients. Her positive attitude and encouraging demeanor are appreciated by both her patients and coworkers."
The next DAISY Award winner will be announced in January 2024.