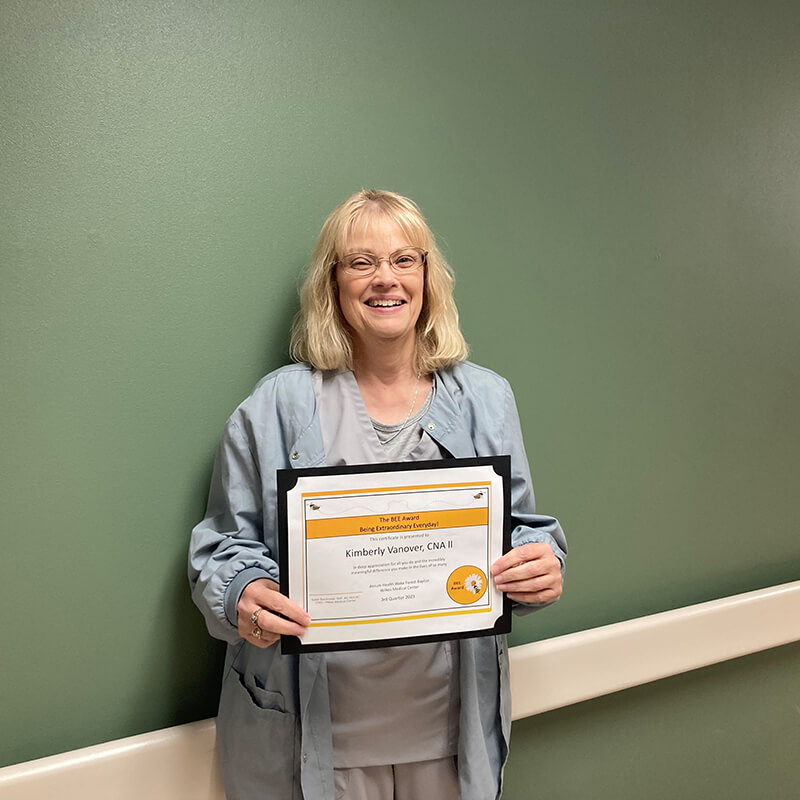 Atrium Health Wake Forest Baptist Wilkes Medical Center has announced its most recent BEE Award Winner, Kimberly Vanover, a certified nursing assistant (CNA).
The BEE Award recognizes team members outside of nursing and coincides with the DAISY Award, which honors nurses. The BEE award was created because, just as in nature, bees are loyal and hardworking. The bee cannot exist without the daisy and the daisy cannot exist without the bee.
When asked why she became a CNA, Vanover said, "I became a CNA because of my mom. She was one for many years and loved it. I took care of her until she passed away in 2018. I wasn't sure if I really wanted to continue in healthcare after that, but I soon realized that I didn't want to do anything else. I love taking care of my patients."
Vanover's manager, Melissa Wyatt, said, "Kim is one of the hardest working CNA's that I know. She is a two-time BEE winner, has received multiple nominations for BEE, and was a 2023 CNA Excellence Award winner. She provides compassionate and dignified care to all of her patients and she is always willing to help her teammates out. She is such a positive and vital asset to our surgical nursing team. She is the nurse's eyes and ears. and we couldn't do our jobs without her."
The next BEE award winner will be announced in January 2024.