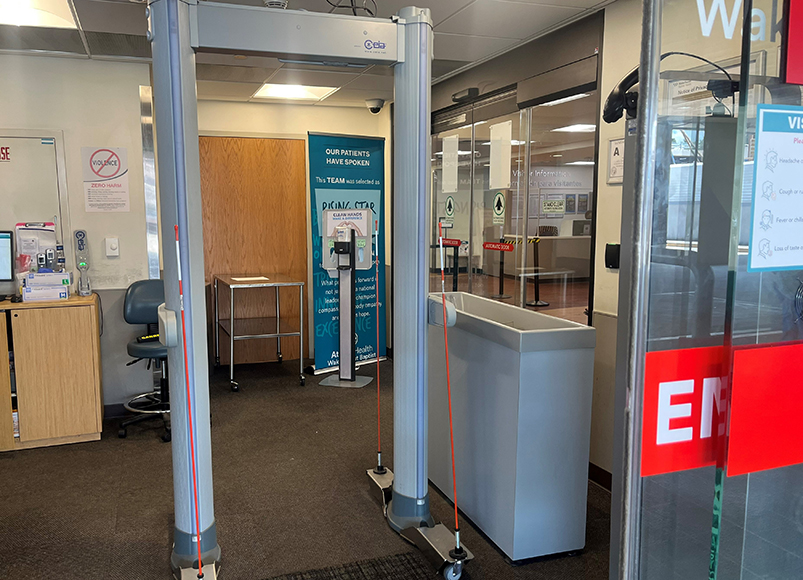 In an effort to increase safety for teammates, patients and visitors, Atrium Health Wake Forest Baptist has begun installing walk-through metal detectors at emergency departments across the health system.
Violence against health care workers is a global problem and according to the U.S. Department of Labor, workplace violence is a recognized hazard in health care.
Walk-through metal detectors are installed and active at Wake Forest Baptist Medical Center's adult emergency department, and at emergency departments at Davie Medical Center and Wilkes Medical Center. Construction is underway at the Brenner Children's Hospital emergency department and at emergency departments at High Point Medical Center and Lexington Medical Center.
"We are making tremendous progress in creating a healing environment free of weapons at all of our facilities," said Dr. Jason Stopyra, emergency medicine physician and regional medical director for safety and security at Wake Forest Baptist and associate professor of emergency medicine at Wake Forest University School of Medicine. "The installation of walk-through metal detectors is a very important piece in our approach to prevent workplace violence incidents. We have zero tolerance for all forms of abuse directed towards our staff and this is just another step in helping to prevent violence."
The metal detectors have been positively received and patients and visitors move quickly through the screening areas to minimize delays.
"Our registration and metal screening processes are part of an overall strategy to create a safer environment by limiting the opportunity for a bad event," said Kevin Leonard, director of security at Wake Forest Baptist. "Metal detectors will not prevent all forms of violence, but they can greatly minimize the opportunity for violent events involving weapons."
Amnesty boxes outside entrance are also being provided for patients and visitors to voluntarily discard prohibited items, such as firearms and knives, before entering the emergency department.
Weapons - defined as any object used to intimidate, inflict bodily harm, or kill - such as firearms, knives or blades, brass knuckles, mace or pepper spray are prohibited on all Wake Forest Baptist property. Only law enforcement personnel with statutory authority to enforce federal, state, city or county laws are permitted to carry weapons on Wake Forest Baptist property.
Media contacts:
Jenna Kurzyna, jkurzyna@wakehealth.edu
Joe McCloskey, jmcclosk@wakehealth.edu