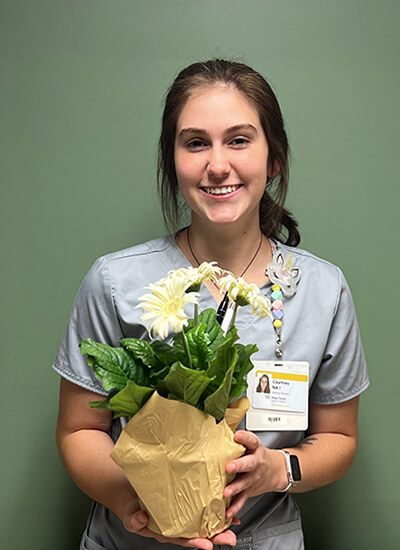 Atrium Health Wake Forest Baptist Wilkes Medical Center has announced its most recent BEE Award Winner, Courtney Hash, a certified nursing assistant (CNA).

The BEE Award recognizes team members outside of nursing and coincides with the DAISY Award, which honors nurses. The BEE award was created because, just as in nature, bees are loyal and hardworking. The bee cannot exist without the daisy and the daisy cannot exist without the bee.

When asked why she became a CNA, Hash said, "In 2020, my family was faced with many hardships. First, my grandfather was in a horseback riding accident and was rushed to the ICU at Wake Forest Baptist. Soon after, my father's mom, my granny, fell and broke her femur and was in the hospital for a short period of time. My granny has always been a huge part of my life and she insisted on coming home to do her rehab. I made the ultimate decision to move in with her and help with her care until she recovered. During that time is when I developed my passion for caring for others. The summer of 2022 is when I got my CNA license and have been in love with the work ever since."

Hash's manager, Rhonda Jones, said, "Courtney not only does an outstanding job as a CNA; she does it with both pride and professionalism. She truly knows what she does for her patients each shift makes a difference. She takes pride in helping her patients feel more like themselves despite what they are going through. This is her true calling."

The next BEE award winner will be announced in October 2023.