Interview opportunity: Dr. Nick Trasolini is available for in-person interviews today, Monday, Feb. 6 at 12:30 p.m. Please RSVP for details on location and parking.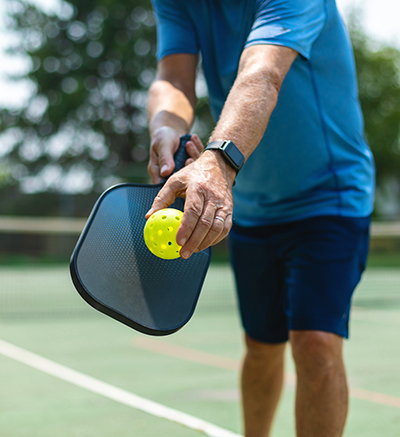 Pickleball is one of the fastest growing sports, combining the elements of tennis, badminton and ping-pong. While the sport grows in popularity, it is important to not only know the rules of the game but how to make sure you don't injure yourself when playing.
Dr. Nick Trasolini, orthopaedic surgeon and sports medicine physician at Atrium Health Wake Forest Baptist and assistant professor of orthopaedic surgery at Wake Forest University School of Medicine, is noticing more patients coming in with pickleball related injuries.
"It's great that so many people are taking an interest in this fun, new sport," Trasolini said. "But it is important to remember to stretch and warm up before jumping into any type of physical activity. Some of the most common injuries I have seen from pickleball are similar to tennis injuries; ACL tears, tennis elbow and upper arm fractures."
The Wake Forest Baptist sports medicine team is the official medical provider for professional, collegiate, community and high school teams throughout the region. Learn more about clinic hours, locations and conditions treated..
"Unfortunately, injuries do happen and that's why our sports medicine specialists develop a specialized treatment plan for every patient," Trasolini said.
Media contacts:
Jenna Kurzyna, jkurzyna@wakehealth.edu
Joe McCloskey, jmcclosk@wakehealth.edu