Love is in the air at Atrium Health Wake Forest Baptist Medical Center. Nurses and teammates at The Birth Center dressed up several newborns to get into the Valentine's Day spirit.
Reagan Nealey made her debut at 12:29 p.m. on Feb. 7, 2023, weighing 7 lbs. 9.9 oz. and measuring 20.5 inches long. Her parents, Nathan and Meghan Nealey, of Denton, are overjoyed at the birth of their daughter.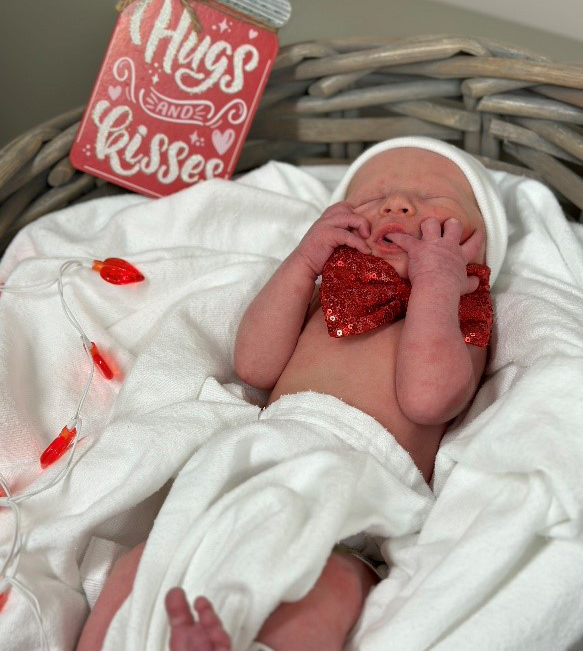 Timothy Burchette entered the world on Feb. 8, 2023 at 9:51 p.m., weighing 7 lbs. 1 oz. and measuring 19 inches long. His mother, Nicole Burchette, of Galax, Virginia, is so excited to have her son just in time as her special valentine this year.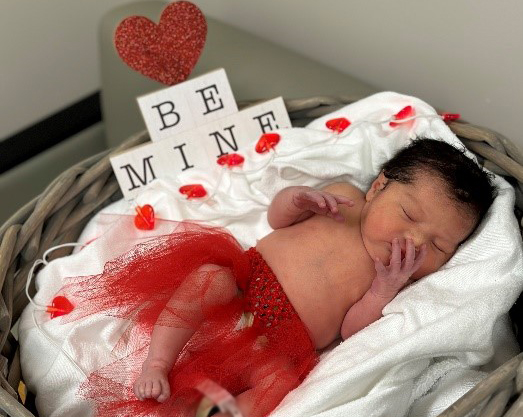 Zaynette Dejesus quickly stole the hearts of her family when she arrived on Feb. 8, 2023 at 11:47 a.m., weighing 6 lbs. 13.2 oz. and measuring 19.33 inches long. Her mother, Silmi Vazquez of Winston-Salem, is thrilled to be adding her daughter to her family.
"Dressing up newborns for special occasions brings such joy to families and to our entire team," said Alisa Starbuck, president of Brenner Children's Hospital and vice president of women's and children's health services at Atrium Health Wake Forest Baptist. "Celebrating a birth is always a joyous time for our families and staff. Being able to make a baby's first holiday even more memorable is extra special."
Media contacts:
Jenna Kurzyna, jkurzyna@wakehealth.edu
Joe McCloskey, jmcclosk@wakehealth.edu