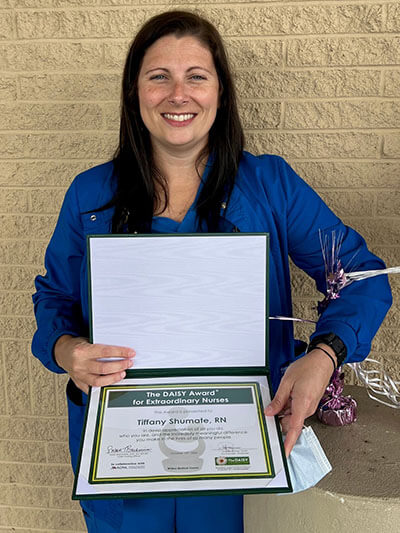 NORTH WILKESBORO, N.C. – October 26, 2022 – Atrium Health Wake Forest Baptist Wilkes Medical Center named nurse Tiffany Shumate as the hospital's latest DAISY Award winner on October 13, 2022.
The DAISY Award is a nationwide program that rewards and celebrates the extraordinary clinical skill and compassionate care given by nurses every day. Wilkes Medical Center recognizes one of its nurses with this special honor every quarter. Each honoree receives a banner, certificate, DAISY Award pin and a hand carved "A Healer's Touch" stone sculpture.
"I went to nursing school because I wanted a stable, rewarding career," Shumate said. "I love taking care of patients and really enjoy working in the emergency department. Even though it can be a stressful environment, it's satisfying knowing you can make a difference in someone's life."
"Tiffany has been a strong leader within our department for several years," said Jason Hamby, Shumate's manager. "She is a mentor for newer nurses and a role model for providing excellent patient care."
The next DAISY Award winner will be announced in January 2023.