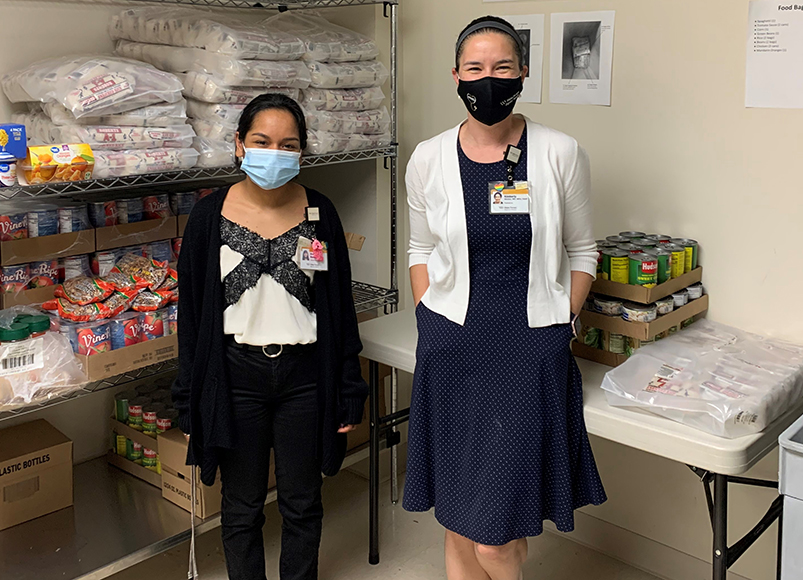 Wake Forest Baptist Health has received a $25,000 grant to help support food insecurity programs at the health system's Downtown Health Plaza and The Birth Center at Wake Forest Baptist Medical Center.
Pediatricians at Downtown Health Plaza screen families at each visit for food insecurity and offer nutritious food, produce vouchers for local farmer's markets and healthy recipes that can easily be made at home, along with SNAP and WIC referrals, as part of the health system's Food is Health program.
The grant from No Kid Hungry, a campaign from the national nonprofit Share our Strength, will allow the Food is Health program to continue at Downtown Health Plaza, and expand to The Birth Center at Wake Forest Baptist Medical Center to serve families in the newborn nursery who are food insecure.
"Given the association of food insecurity with poor child health outcomes, intervening at birth has the potential to mitigate household food insecurity at a critical time of growth and development for the baby," said Kimberly Montez, M.D., assistant professor of pediatrics at Wake Forest Baptist and principal investigator for the grant. "This is why we are so excited to now be able to start screening for and addressing food insecurity for families of newborns."
According to No Kid Hungry, at one point during the past year, 40% of parents of children under the age of six reported job or income loss related to the pandemic and more than one in five parents reported food insecurity in their household.
The grant is part of $3 million in grants that No Kid Hungry is providing to more than 120 health care providers, early child care centers and community organizations across the country.
"Food insecurity in the early years can have an immediate and lasting impact on overall health, learning, school readiness, and behavior," said Caron Gremont, director of early childhood for the No Kid Hungry campaign. "These flexible, year-long grants will help organizations provide healthy food to young kids and their families at this critical time."
Media contacts: