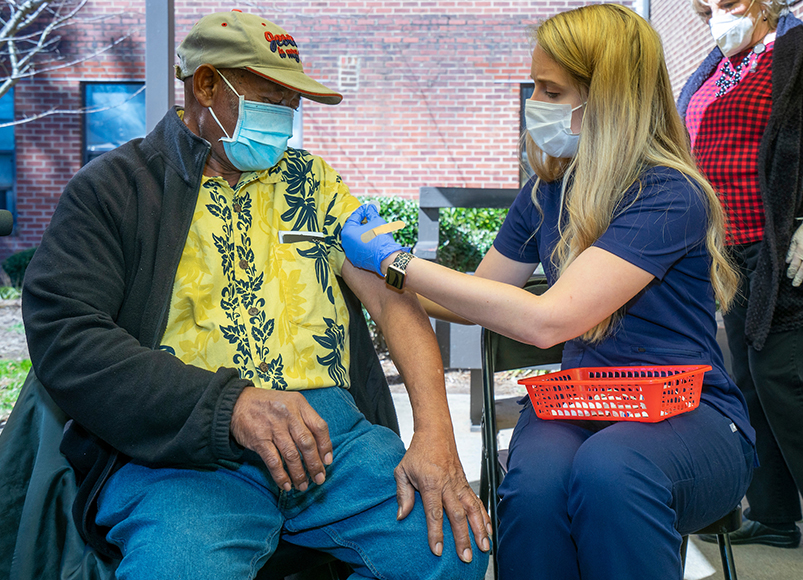 Wake Forest Baptist Health is using its Mobile Health Clinic to provide convenient COVID-19 vaccinations to older adults.
Staff and volunteers administered first doses of the vaccine to 60 seniors who live in East Winston. The health system partnered in this event with North Carolina Housing Services, which manages University Place Apartments and Goler Manor Apartments.
77-year-old William McClam said he wanted to get the vaccine to help him stay as healthy as possible. "This is very important because I don't want to get sick and I don't want any of my friends or relatives to get sick," he said.
Among the recipients of the vaccine were those who are part of Wake Forest Baptist's Fresh Food Rx program – a program that provides healthy food to older adults who are food insecure.
"Community partnerships such as this are vital in ensuring that everyone who wishes to receive a vaccine has the opportunity, regardless of where they live," said Rachel Zimmer, D.N.P., director of Wake Forest Baptist's Mobile Health Clinic. "We are constantly looking for ways to reach those in underserved areas and populations who are disproportionately affected by COVID-19."
Media contact: Joe McCloskey, jmcclosk@wakehealth.edu, 336-716-1273