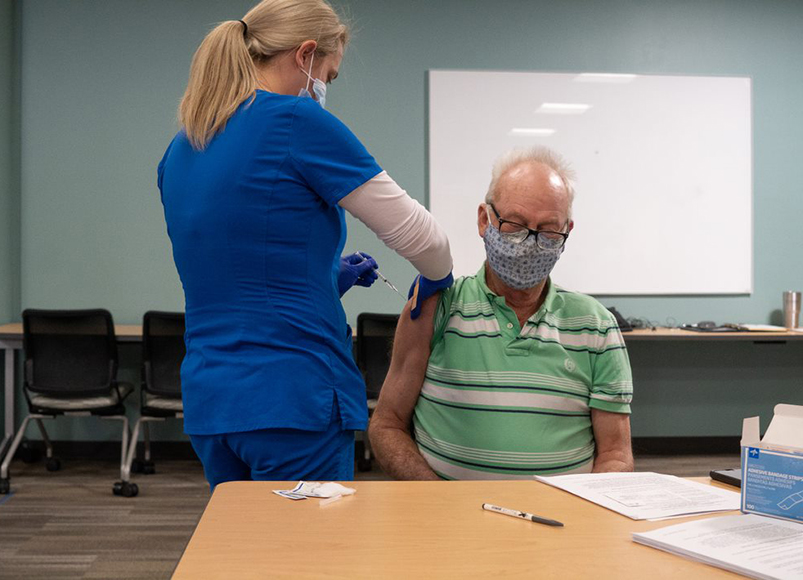 Wake Forest Baptist Health today began offering the COVID-19 vaccine to a small group of its patients 75 and older at Wake Forest Baptist Medical Center.
77-year-old Pat Dodson, from Clemmons, was the first Wake Forest Baptist patient to receive the vaccine.
"I've been wanting this vaccine for a while, so it feels very special," Dodson said. "We all need to recognize the importance of this vaccine, so please get it done when it's available."
Rich Lord, M.D., chair of family and community medicine and vice president of primary care and population health at Wake Forest Baptist, said beginning to offer vaccinations to this first small group of patients is an important first step but cautioned that the process will take quite some time.
"We know that our patients are eager to learn more about the vaccine distribution, but we need everyone to remember that vaccine doses continue to be limited and it will likely take many weeks for enough doses to become available for every patient who wishes to be vaccinated," Lord said.
Wake Forest Baptist patients will continue to be updated about access to vaccination opportunities through their myWakeHealth account and on Wake Forest Baptist's COVID-19 vaccine website.
"As we begin the process of slowly ramping up vaccination opportunities for our patients who are 75 or older in the coming days and weeks, we encourage them stay up to date on the WakeHealth.edu website, but also to contact their local county health department as they may have vaccine appointments available earlier, depending on their allocation from the state," Lord said.
Wake Forest Baptist was the first health system in North Carolina to receive the Pfizer COVID-19 vaccine on Dec. 14 and began vaccinating its employees the next day, on Dec. 15. The health system continues to offer vaccinations to its employees who fit in Phase 1a or who are 75 years of age or older, following federal and state guidance.
Note: High quality photos and b-roll can be downloaded here.