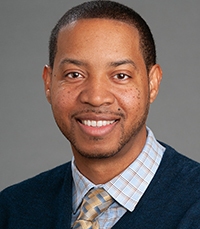 Wake Forest Health Network Obstetrics and Gynecology – Wilkes, an affiliate of Wake Forest Baptist Health welcomes Dr. Sean Davis to the practice. Dr. Davis joins the provider team of Dr. David Bersinger and Certified Family Nurse Practitioner, Pamela Aiken. "I enjoy providing care to expectant moms and women of all ages," says Dr. Davis. "It is a privilege to care for patients in Wilkes County."
Dr. Davis is Board Certified by the American Board of Obstetrics and Gynecology. He received his medical degree from the University of Florida College of Medicine and completed his residency in obstetrics and gynecology at Emory University Hospital and St. Joseph's Hospital and Medical Center.
Dr. Davis and the practice are accepting new patients. Appointments can be made by calling 336-667-2232. Obstetrics and Gynecology - Wilkes is located at 1405 Willow Lane in North Wilkesboro, next to the West Park Medical Plaza.
Media contact: Mary Beth Nelson, menelson@wakehealth.edu, 336-870-1476.