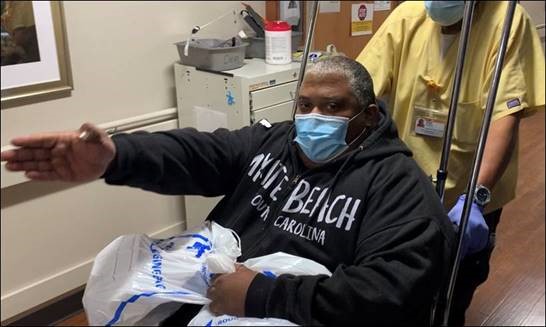 Booker signals that he is heading home as he is wheeled out of Wake Forest Baptist Medical Center.
Winston-Salem resident, Carl Booker, went to the emergency department at Wake Forest Baptist Medical Center on Saturday, Dec. 5 after experiencing severe breathing issues. Booker, 48, and the father of three sons, was diagnosed with both COVID-19 and pneumonia and was hospitalized for five days. He was discharged yesterday, Thursday, Dec. 10, and was the 1,000th COVID-19 patient to be discharged from the Wake Forest Baptist Health system.
"I am beyond proud of our staff for their continued dedication, resiliency and commitment to our patients throughout this pandemic," said Kevin High, M.D., Wake Forest Baptist Health system president and Atrium Health North Central/Western N.C. Region president. "Our front-line folks are working endlessly to try to get every patient to the point where they're well enough to be discharged and that's something to take great pride in. They are working so hard to take care of those in our region. Although a vaccine is on the horizon, it's critical to remember that this pandemic is not over and we all must stay vigilant in our fight against this virus."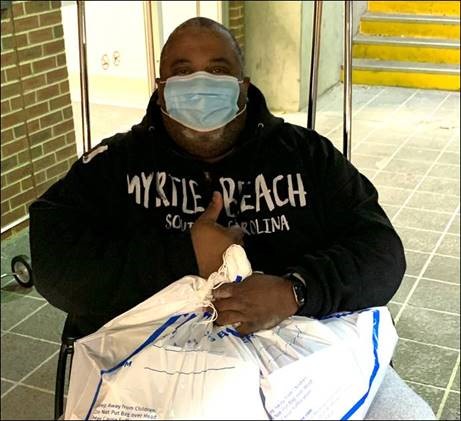 Booker awaiting pick-up outside of Wake Forest Baptist's COVID-19 discharge area.
"These doctors, nurses, respiratory therapists, anyone that entered my room – they all took incredible care of my health. But it was the little things that the staff did that made such a lasting impression," Booker said. "They took the time to get to know me and encourage me and with my diagnosis, I wasn't able to have visitors, so this was very impactful for me; something very special that they didn't have to do. I obviously hate that I got COVID-19 and was hospitalized but I'm thankful to have met this wonderful staff and I'm very thankful for the care they provided me with."
The Wake Forest Baptist Health system also recently surpassed completion of over 100,000 COVID-19 tests administered in its ambulatory clinics and in certain cases, in-house labs.
Note: High quality versions of these photos and video can be downloaded here.
Media contact: Eryn Johnson, eryjohns@wakehealth.edu, 336-905-1442.