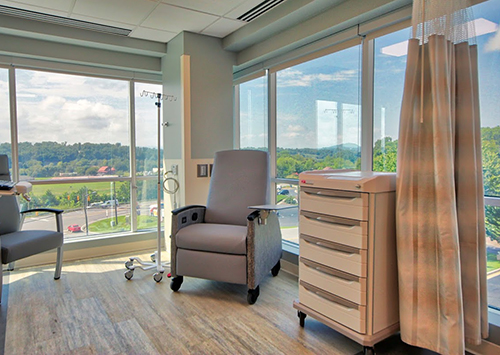 Wake Forest Baptist Health announced today the opening of a hematology and oncology clinic at Wake Forest Baptist Health – Wilkes Medical Center.
The new clinic is part of Wake Forest Baptist's Comprehensive Cancer Center network – the only center in the region designated by the National Cancer Institute and one of only 51 in the country.
Patients can now receive diagnosis and treatment of cancer and benign and malignant blood disorders, on-site chemotherapy infusion, laboratory and pharmacy services, PET imaging, and access to the latest cancer treatments and clinical trials.
The $6 million, 7,000-square-foot facility includes a reception area, renovated pharmacy, nine exam rooms and 12 chemotherapy infusion bays on the first floor of Wilkes Medical Center.
"By bringing these new services to our area, we are continuing our commitment to expanding access to convenient, high-quality health care so more patients can remain closer to home," said Chad Brown, president of Wilkes Medical Center. "By being part of Wake Forest Baptist Health, our hematology and oncology team is directly connected with the experts in radiation, gynecologic and surgical oncology to ensure we offer a multidisciplinary approach for our patients with all types of cancer, from the most common to the very rare."
Wake Forest Baptist Hematology and Oncology – Wilkes is open Monday through Friday from 8 a.m. to 5 p.m.
In addition to North Wilkesboro, Wake Forest Baptist provides cancer services in Winston-Salem, Clemmons, Elkin, Hendersonville, Hickory, High Point, Lexington, Mount Airy, Sparta and Statesville.
Media contacts:
Joe McCloskey, jmcclosk@wakehealth.edu, 336-716-1273
Eryn Johnson, eryjohns@wakehealth.edu, 336-713-8228