Note: High quality versions of these photos can be downloaded here.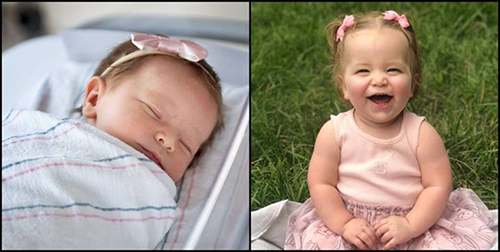 Esperanza was the first baby to be delivered at The Birth Center. She also is celebrating her first birthday!
In the past 365 days since The Birth Center at Wake Forest Baptist Medical Center has opened, more than 2,500 babies from over 20 counties – including over 70 sets of twins and triplets – have been delivered at the facility. The Dale and Karen Sisel Neonatal Intensive Care Unit (NICU) celebrated its first birthday earlier in July and has admitted more than 800 infants from across the region in the last 12 months.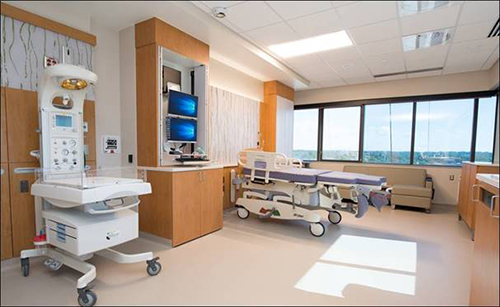 The Birth Center's clinical and design teams worked with patient advisers to make sure The Birth Center included features that are most important to moms and families.
The two-floor, 100,000-square-foot custom-designed facility continues to offer expectant mothers a new option when it comes to their prenatal care and birth of their babies. Delivery at The Birth Center also ensures that all babies have immediate access to pediatric specialists in newborn care just steps away in the Sisel NICU – a Level IV NICU, the highest level possible.
The Birth Center has provided a new level of convenience, comfort and patient- and family-centered care to the Triad.
"What a wonderful and exciting year it's been here at The Birth Center and the Dale and Karen Sisel NICU – a true honor and privilege to offer the full continuum of services to women in our community and region," said Alisa Starbuck, N.N.P, D.N.P., president of Brenner Children's Hospital and vice president of women's and children's health services at Wake Forest Baptist. "The last few months have of course seen limited and unprecedented visitor restrictions and added safety measures, due to COVID-19, and I know it's been an uncertain time for many moms. From the moment we opened our doors a year ago today, and throughout this pandemic, I have remained so proud of the commitment, dedication and gratitude our staff has made to offer the highest quality care to mothers and babies."
Media contact: Eryn Johnson, eryjohns@wakehealth.edu, 336-905-1442