Wake Forest University and Pearson today announced the launch of two new master's graduate degree programs to be offered through Wake Forest School of Medicine: Healthcare Leadership and Clinical Research Management. Both programs will be offered online and are uniquely designed based on input from key industry employers.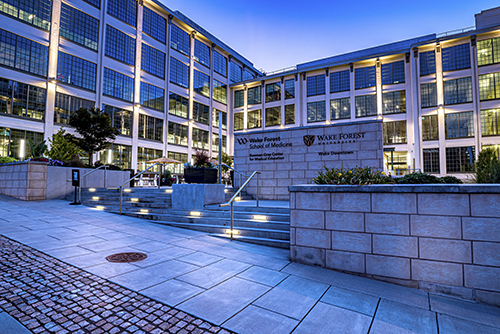 The degree programs will incorporate a focus on leadership skills that will allow graduates to be the transformational leaders for the future of healthcare and clinical research, differentiating them from many traditional graduate healthcare programs in the market today.
"Healthcare is one of the fastest-changing business sectors in the world today, and the industry needs leaders who can adapt quickly to those changes," said Bret Nicks, MD, professor of emergency medicine at Wake Forest School of Medicine and program director for Healthcare Leadership.
"The innovative curriculum found in these new programs will prepare leaders who can tackle complex health system and clinical research challenges," said Ralph D'Agostino, PhD, professor of biostatistics and data science at Wake Forest School of Medicine and program director for Clinical Research Management.
Wake Forest School of Medicine is one of the top medical schools in the country and prepares the next generation of healthcare leaders through a comprehensive mix of education, research and innovation. The two new degree programs will be offered to students beginning in the fall semester of 2020 and will be taught by Wake Forest School of Medicine's renowned faculty.
"Wake Forest University is an innovative leader in higher education, leveraging a flexible and creative approach for online delivery to meet the needs of its students," said Iwan Streichenberger, president of Pearson Online Learning Services. "We are proud to partner with the School of Medicine to offer learning options for working professionals who are focused on developing and enhancing the key skills they will use as they advance their careers in the healthcare industry."
Pearson Online Learning Services and Wake Forest's partnership leverages a creative new financial model that allows both Pearson and the University to co-invest in the launch of the new degree programs. Pearson provides comprehensive online program management (OPM) services and partners with over 40 higher education institutions around the world, supporting approximately 350 undergraduate and graduate degree programs, in addition to certificates and non-credit-bearing credentials.
Media Contacts:
Wake Forest University
Cheryl Walker
walkercv@wfu.edu
336-758-6073
Wake Forest School of Medicine
James Patterson
jhpatter@wakehealth.edu
336-713-1652
Pearson
Scott Overland
scott.overland@pearson.com
202-909-4520