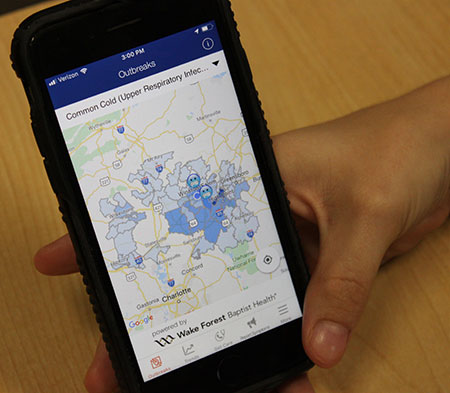 With flu season right around the corner, Wake Forest Baptist Health has introduced a free app for smartphones and mobile devices that allows people to track illnesses in their communities in real time.
The Sneez app was originally released several years ago, but has recently been redesigned to incorporate diagnoses from Wake Forest Baptist's primary care practices and urgent care clinics. This data is combined with symptoms self-reported by users to create heat maps that show which illnesses are circulating and how common they are.
All data is anonymous and grouped by ZIP code – patients' protected health information, personal details or specific location are never shared.
The app can be downloaded for Apple devices from the App Store and for Android devices from the Google Play Store.
"As a pediatrician, but also as a parent and grandparent, I understand how important it is for parents to have accurate and reliable information on illnesses that may be making their way through the community," said Bill Satterwhite, MD, creator of the Sneez app and chief wellness officer at Wake Forest Baptist Health. "In addition, having access to real-time data benefits older adults and those with compromised immune systems who have a significant need to know this information so they can stay healthy."
The app's other features include the ability to speak on the phone with a nurse, reserve a spot at an urgent care clinic or see a health care provider day or night through a virtual visit.
Illness data is currently available only for Wake Forest Baptist's service area in North Carolina, but Satterwhite hopes to expand the app's geographic range by partnering with more health care providers.
"People who use the Sneez app are part of a community that is committed to keeping everyone healthy by staying one step ahead of the germs," Satterwhite said.
The app was developed at Winston Starts, a startup incubator that nurtures entrepreneurs in a wide array of industries and helps them develop their ideas into successful businesses. Winston Starts is located in the former GMAC building in downtown Winston-Salem.
More information on the app can be found at www.sneezapp.com.

Media Contacts
Joe McCloskey, jmcclosk@wakehealth.edu, 336-716-1273
Eryn Johnson, eryjohns@wakehealth.edu, 336-713-8228