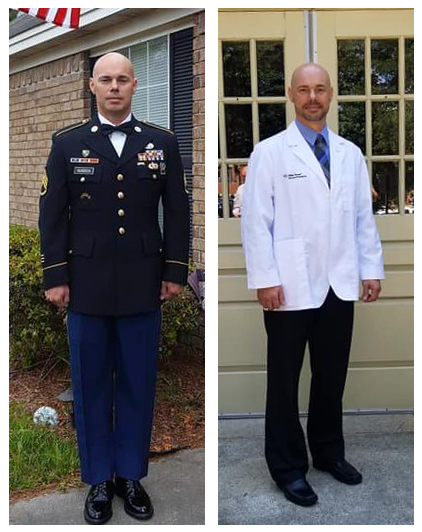 Lawrence Sugden has traded in his combat gear and the battlefields of Afghanistan and Iraq for textbooks and the halls of Wake Forest School of Medicine.
Sugden, 39, is an 11-year U.S. Army veteran who served as a special operations combat medic and rose to the rank of staff sergeant. He said his career plans never included medicine, or even the military.
After Sugden lost his factory job in 2007, a friend suggested he join the military. He did just that.
Sugden was deployed five times to Afghanistan and once to Iraq.
"I served as an infantryman until someone within my platoon was injured, then my role would shift to a medic and it was my responsibility to get to that person and assess and treat their injuries while still maintaining situational awareness of the events going on around me," Sugden said. "I learned to keep my cool on the actual battlefield thanks to the realistic scenarios and live-fire simulation training I had received. It just became second nature to me to work under those extreme conditions."
While in the Army, Sugden earned a Bachelor of Science degree in public health from the American Military University and later was able to take pre-med classes at George Mason University, courtesy of the Army.
"When I first signed up to become an Army medic, I had no medical background and really wasn't sure what was to come," Sugden said. "I quickly learned I had an aptitude and passion for medicine."
As Sugden became more experienced as a medic, his role shifted from being hands-on with patients to assuming more leadership duties, which included training and overseeing other medics. That, he said, was when he realized how much he missed direct patient interaction and decided to pursue medical school.
In July, Sugden and his wife moved to Winston-Salem from Manassas, Va. to begin his medical school studies.
"Everyone at Wake Forest School of Medicine has been incredibly supportive," Sugden said. "I'm not a traditional student and I hope because of that, my life experiences can provide a different type of insight and encouragement to my fellow classmates. Many of them have certainly helped me adjust back to civilian life."
Sugden, who still serves as a second lieutenant in the U.S. Army Reserves, said he has hopes to become a trauma surgeon after graduation and residency training.
"I spent most of my military career handing patients off to surgeons," he said. It was working with those surgeons that made me realize I wanted to be on their side of the operating table."
Media Contacts
Joe McCloskey, jmcclosk@wakehealth.edu, 336-716-1273