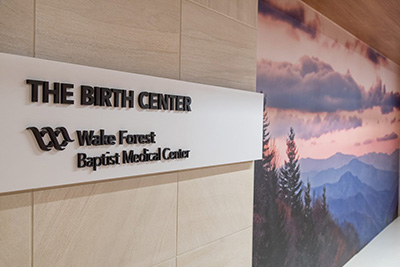 Mothers-to-be now have a new option when it comes to their prenatal care and birth of their babies. Wake Forest Baptist Health today revealed a two-floor, state-of-the-art labor and delivery center and a leading-edge neonatal intensive care unit (NICU) on its Winston-Salem campus.
The 100,000-square-foot facility, which includes The Birth Center and The Dale and Karen Sisel Neonatal Intensive Care Unit, provides the full range of delivery options from routine, traditional births and certified nurse midwife-assisted births with hydrotherapy to cesarean and other complex births. Deliveries are attended by expert teams of obstetricians, certified nurse midwives, maternity nurses and neonatologists. All deliveries have immediate access to specialists in newborn care just steps away in the new Sisel NICU, featuring the latest technology in all-private rooms and further supported by the pediatric specialists at Brenner Children's Hospital, part of Wake Forest Baptist Health.
"We are thrilled to provide another location to deliver the newest members of our community," said Julie Ann Freischlag, M.D., CEO of Wake Forest Baptist Health and dean of Wake Forest School of Medicine. "We have been caring for moms and delivering babies in Winston-Salem since 1923 – that's 96 years' worth of knowledge and experience in labor and delivery, right here in the Triad."
The Birth Center's clinical and design teams worked with patient advisers to make sure the new facility includes features that are most important to moms and families.
Located on the top floors of Ardmore and North Towers, The Birth Center brings a new level of convenience, comfort and patient- and family-centered care to the Triad, beginning with valet parking service and dedicated elevators that bring moms and their spouses or partners directly to the greeting area of labor and delivery on the 11th floor.
The serene and comfortable surroundings offer lots of natural light through abundant windows and amenities such as family lounges on each floor, private patient rooms with couches that easily convert to beds, soft floors, a variety of lighting options and beautiful mountain and cityscape views. Much of the artwork throughout the new facility was created by local and North Carolina artists. One floor up, an outdoor rooftop playground and garden offers additional space for families and children.
On the 11th floor, there are nine triage, four preparation and recovery rooms and four Ob-Gyn procedure rooms. There are 17 labor and delivery rooms, four of which are dedicated to alternative deliveries with on-staff certified nurse midwives in a home-like setting.
The recessed "front porch" entrance to each room offers family members their own entry and foyer for coats, suitcases, packages and other belongings. Hospital staff enter through a separate door.
Across the hall from The Birth Center is the new and expanded Dale and Karen Sisel NICU with 51 private patient rooms, two of which are reserved for twins.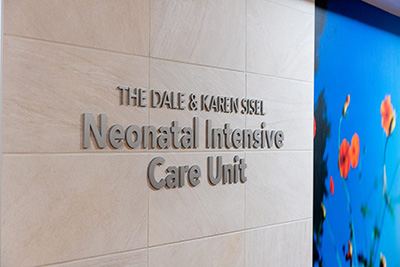 Research shows that the right environment is important for optimal growth and development of premature or seriously ill infants. Private rooms provide parents and families a quieter and more comfortable environment to bond with their babies and confer with their doctors and staff.
This is the first NICU in the country to use an FDA-approved human milk analyzer to determine if specific nutrients need to be added for babies to get their best start in life.
A team of specialists and lactation consultants helps families with the special needs of their babies.
One of the other special aspects of the NICU is that it is made possible in part due to the generosity of neighbors in our community. Longtime Winston-Salem resident Karen Sisel is providing a $5 million donation to lead Wake Forest Baptist's ongoing philanthropic capital campaign to bring patient- and family-centered features to the new NICU. In honor of this very generous contribution, the NICU has been named for Sisel and her late husband, Dale. To date our community has provided more than $12.5 million to the effort.
The 10th floor houses 30 maternity and post-maternity patient rooms, with two larger rooms for twins and two double-size rooms with special amenities.
There is also a special room where adoptive parents and their babies meet to bond and begin their new lives together.
Each floor has its own respite area for on-call physicians and staff that offers a nearby place to rest so they can quickly respond when needed. Lactation consultants and other maternity resources are also located on each floor.
"The Birth Center is the only facility in the region with this unique range of options for both moms and their babies," said R. Phillips Heine, M.D., chair of obstetrics and gynecology, Wake Forest Baptist Health. "Combining labor and delivery options with the newborn and pediatric specialists of Brenner Children's and the resources of an academic medical center allows us to manage both the known and unknown medical needs of mother and child."
For Alisa L. Starbuck, D.N.P., president of Brenner Children's Hospital and vice president of women's and children's health services at Wake Forest Baptist, what happens before and after birth is just as important as labor and delivery. As a former NICU nurse herself, she has spent her career ensuring that Triad babies get the best start possible.
"We have done extensive research and partnered with patient advisers to design an exciting experience for expectant moms, including prenatal through post-maternity care with classes and online resources," Starbuck said. "We are so pleased to finally be able to offer these services to our community."
The general contractor for the project was Frank L. Blum Construction, the architect was HKS, Inc. and Leach Wallace Associates, Inc. provided mechanical, electrical and plumbing engineering. More than 350 people worked on the project including 32 subcontractors who were hired to complete construction work, which at times ran 24 hours a day.
Media contacts:
Paula Faria, pfaria@wakehealth.edu 336-716-1279
Joe McCloskey, jmcclosk@wakehealth.edu 336-716-1273