CareNet Counseling – an affiliate of Wake Forest Baptist Health – the largest network of spiritually integrated counseling services in the state and the largest hospital-based provider in the country, has named Bryan Hatcher, LCSW, president of its organization.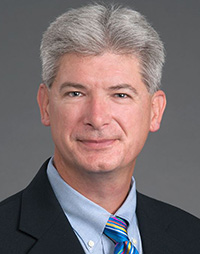 Hatcher had been the interim president of CareNet since August 2018. As president, he is responsible for the strategic development of the statewide network and advancing its mission and innovation. He succeeds Steven Scoggin, Psy.D., who was appointed interim chair of Wake Forest Baptist's Department of Psychiatry and Behavioral Medicine.
With 35 offices across the state, CareNet serves individuals, couples and families who are dealing with depression, anxiety, grief, work-related stress, addiction, abuse, trauma, relationship issues and many other challenges.
"Bryan is just the right person to help continue taking CareNet Counseling into the future in innovative ways," said Gary Gunderson, M.Div., D.Min., vice president of faith and health ministries at Wake Forest Baptist. "Bryan has a passion for not only delivering high quality counseling services but also advocating for and serving those who are underserved."
Since coming to CareNet in 1999, Hatcher has served in many roles, and most recently was the chief operating officer. He is an experienced counselor, chaplain and pastor and is an adjunct faculty member of Wake Forest University's School of Divinity.
CareNet Counseling has been an active part of the state's behavioral health community for more than 40 years.