Thousands of young athletes seek medical treatment every year for elbow and shoulder injuries, with many occurring among baseball pitchers, according to the American Orthopaedic Society for Sports Medicine.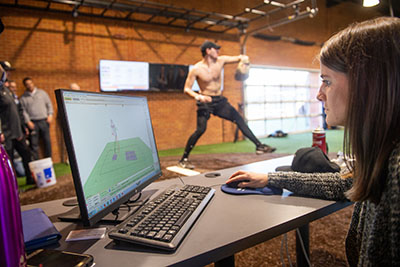 To help identify the causes of many of these injuries and find ways to prevent them from occurring in the first place, Wake Forest Baptist Health and Wake Forest University have partnered on a new state-of-the-art pitching lab.
The biomechanics lab is one of the first of its kind in the United States and integrates the Wake Forest athletic department with the sports medicine experts at Wake Forest Baptist.
"I have had the opportunity to work closely with many elite professional and collegiate athletes during my career as an orthopaedic surgeon, but to be involved with such a world-class facility is really special," said Brian Waterman, M.D., associate professor of orthopaedic surgery at Wake Forest Baptist and team physician for Wake Forest's baseball team. "Helping athletes prevent injuries is a major focus of our sports medicine team, and we are thrilled to be able to bring the experience and the capabilities of Wake Forest Baptist's academic medical center directly to the players who will use this facility."
The pitching lab uses 16 high-speed cameras and motion-capture markers to record every detail of a pitcher's throwing delivery and follow through to provide instant feedback on several large video monitors.
"My role is to collect and analyze the data to help coaches and players identify potentially dangerous pitching mechanics and determine if adjustments in a player's throwing motion need to be made," said Kristen Nicholson, Ph.D., assistant professor of orthopaedic surgery at Wake Forest Baptist and director of the biomechanics lab. "I also work closely with the coaching staff to generate personalized pitching plans for the players to optimize their performance and help keep them on the field."
The pitching lab is part of a $12 million player development center located at Wake Forest's David F. Couch Ballpark.
"This is truly a groundbreaking partnership in college athletics," said Tom Walter, Wake Forest's head baseball coach. "First and foremost, this ensures that the development and health of the Wake Forest pitching staff will be second to none in professional and amateur baseball. Equally important, however, is the opportunity to improve the game of baseball as a whole and put Winston-Salem at the epicenter of forward pitching analytics."
Future plans call for the lab to also be available to youth baseball teams for comprehensive evaluation and analysis of their pitchers' mechanics and development of customized training programs aimed at reducing the risk of injury and enhancing performance. Researchers will combine the additional biomechanical throwing data from these young athletes with the data from the college athletes.
"This is bigger than just Wake Forest," Walter said. "Arm injuries have baffled the baseball world for decades. We're excited about the opportunity to learn more about why these occur and use that information to help the next generation of baseball players."