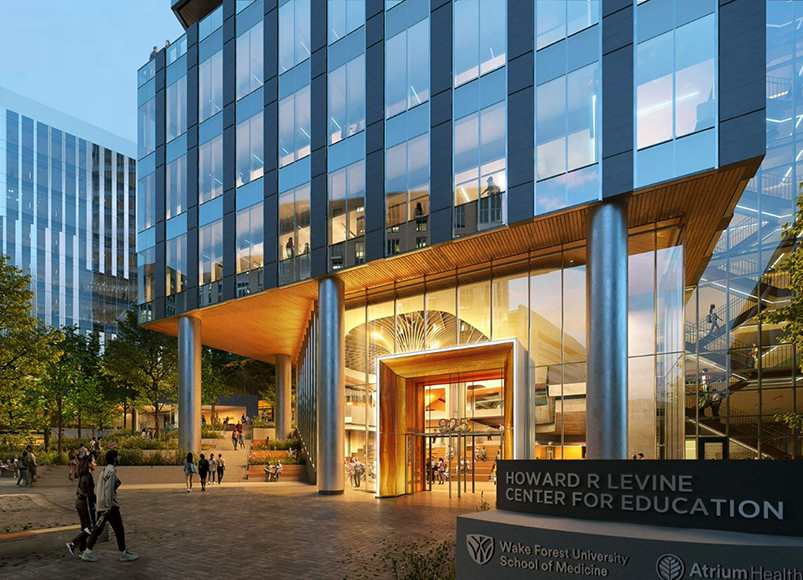 As planning continues to advance towards Wake Forest University School of Medicine's Charlotte campus seating its first class in 2025, designers and engineers are working to ensure the Howard R. Levine Center for Education will be state-of-the-art, including building the facility to a carbon-zero and LEED Gold standard, while also achieving a WELL Building Standard.
Leadership in Energy and Environmental Design (LEED) Zero Carbon certification refers to optimal efficiency in building construction and operation and avoiding emissions from energy consumption. LEED Zero Carbon "recognizes net-zero carbon emissions from energy consumption through carbon emissions avoided or offset over a period of 12 months." According to the International Well Building Institute, the WELL Building Standard "takes a holistic approach to health in the built environment addressing behavior, operations and design...measuring, certifying and monitoring features of the built environment that impact human health and well-being, through air, water, nourishment, light, fitness, comfort and mind."
The education center will be located in "The Pearl" innovation district, near Midtown Charlotte, and is currently under construction. The 14-story building will be named in honor of Charlotte business leader and philanthropist Howard R. Levine, whose family foundation provided a $25 million gift to Atrium Health Foundation in support of the project. It will house a second campus of Wake Forest University School of Medicine and is believed it will be the nation's first net-zero medical school. In much the same way Howard Levine and his family have helped advance pediatric and cancer care nationally, this commitment to a net-zero medical school can transform the way health care is delivered for generations.
It has been estimated the health care sector creates 8.5% of total greenhouse gas emissions in the U.S. The net-zero approach by Atrium Health recognizes health care has unique opportunities to reduce its environmental impact, given its energy needs to maintain 24/7 operations, plus emissions from operating room anesthesia gas waste and other areas where efficiency can be increased and emissions reduced.
"From Day 1 of their training, Wake Forest University School of Medicine will teach our medical students to implement a sustainability-based approach to the way they practice and deliver care, all while in a building that was constructed and operates as net-zero," said Eugene A. Woods, chief executive officer of Charlotte-based Advocate Health, which both Atrium Health and the school of medicine are a part of. "As an industry, we must take on a larger role in protecting our planet by improving the energy efficiency of our hospitals, transitioning to cleaner energy sources, reducing waste and training the next generation of medical professionals to mirror these types of best practices in their own care delivery."
In 2022, Woods and other health care industry leaders took part in a roundtable discussion at the White House with officials of the U.S. Department of Health and Human Services, pledging meaningful action to decarbonize the health care sector. Atrium Health was one of the first health systems to sign on to the Health Care Sector Pledge, committing to meet the Biden administration's goal of reducing emissions by 50% by 2030 and achieving net-zero emissions by 2050.
Some scientists have postulated the Earth's changing climate is contributing to deteriorating health within the population, including worsening lung disease and heart disease conditions and making people more susceptible to heat-related conditions, conditions which are exacerbated among minority and underserved populations. Policies and practices designed to preserve clean water, clean air and green spaces can help offset some of those types of effects.
By operating Wake Forest University School of Medicine Charlotte on a net-zero basis, medical students will learn the financial and environmental benefits of sustainability. Supporting curriculum is currently being developed.
"As we continue to plan toward the opening of our medical school campus in Charlotte, we have a tremendous opportunity – both in Charlotte and Winston-Salem – to expand our medical education training and have a positive impact on our communities and our environment," said Dr. Ebony Boulware, dean of Wake Forest University School of Medicine and chief science officer at Advocate Health, of which the medical school is the academic core. "Together, as one medical school and two campuses, united together in one mission, we will empower innovation and lead the way in transforming the future of health care."
Atrium Health has been named by the Environmental Protection Agency and the U.S. Department of Energy as a "2023 ENERGY STAR Partner of the Year – Sustained Excellence Award" honoree. It is the sixth consecutive year Atrium Health has been recognized by the EPA for its energy efficiency programs and its 26 Energy Star certified buildings. Since 2012, it has reduced its energy consumption by 35%, resulting in more than $23 million in operational cost savings.
The health provider is also a network partner of Practice Greenhealth, a leading, nonprofit innovation and networking organization for sustainable health care. The organization provides tools, resources and scalable solutions that help the enterprise benchmark, set goals and implement strategies to protect community health and well-being.
Atrium Health is partnering with Wexford Science & Technology to construct the Levine Center and the surrounding The Pearl innovation district. The Pearl is a public-private partnership between Atrium Health, Wexford, the City of Charlotte and Mecklenburg County. The innovation district will be a multi-phased, mixed-use development featuring office, lab, retail, residential – including affordable housing, community gathering and academic spaces.
Contact: Media@AtriumHealth.org