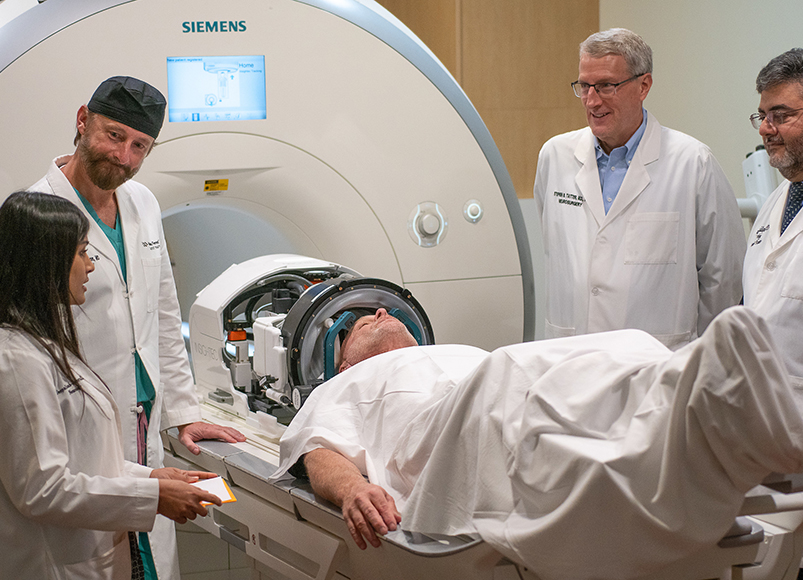 Atrium Health Wake Forest Baptist Medical Center is the first and only medical center in the Triad region to offer focused ultrasound treatment for patients suffering from disabling essential tremor and tremor dominant Parkinson's disease not adequately controlled with medications.
Essential tremor is a neurological condition in which uncontrollable shaking – most often in the hands, head or voice – occurs during movement. It affects an estimated 7 to 10 million Americans, according to the International Essential Tremor Foundation. Parkinson's disease is a neurological condition which affects about 1 million Americans.
During the outpatient procedure, Wake Forest Baptist neurosurgeons use high-intensity sound waves guided by magnetic resonance imaging (MRI) to specifically target the small area in the brain that regulates movement. These sound waves pass painlessly and safely through the skin, bone and brain to reach their target. Since the treatment leaves no holes or incisions, recovery time is quick.
"Much like a magnifying glass can focus sunlight to burn a hole in paper, the focused ultrasound generates enough heat to burn the cells in the target area without harming surrounding tissue," said Dr. Mustafa Siddiqui, movement disorders section chief at Atrium Health Wake Forest Baptist and professor of neurology and neurosurgery at Wake Forest University School of Medicine. "While the cause of essential tremor is still not well understood, we do know that by treating a small area deep inside the brain, we can significantly reduce tremor and improve the ability to perform daily activities such as eating, drinking and writing, and restore quality of life to our patients."
While the FDA-approved focused ultrasound device is located on Wake Forest Baptist Medical Center's Winston-Salem campus, movement disorder teams in both the Triad and Charlotte markets are collaborating to ensure this treatment is available to their patients who can benefit from this treatment at Wake Forest Baptist.
"We are excited to work with our movement disorders colleagues in Charlotte and within the Atrium Health system to offer this incisionless procedure to our patients," Siddiqui said. "This is yet another way our academic learning health system is working together to elevate the level of care we provide to our patients."
Media contacts:
Jenna Kurzyna, jkurzyna@wakehealth.edu
Joe McCloskey, jmcclosk@wakehealth.edu