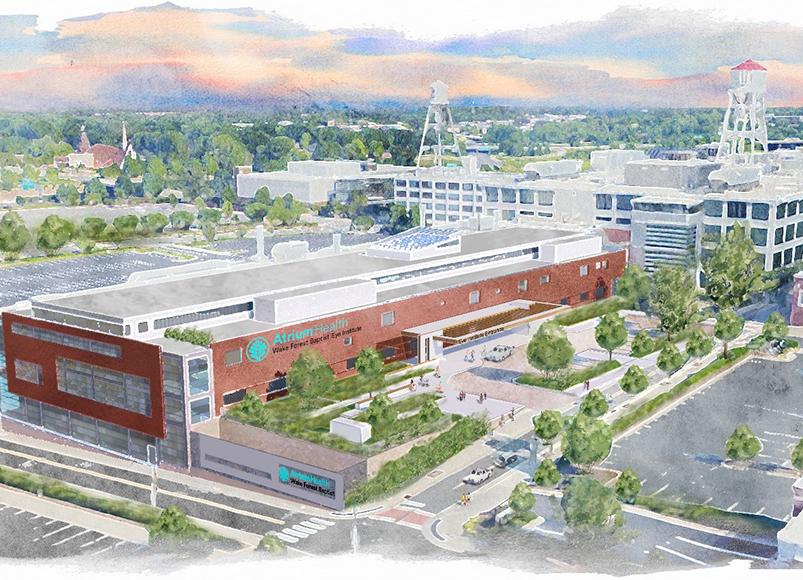 Atrium Health Wake Forest Baptist has chosen the site for its new Eye Institute. The facility will be located at 635 Vine St. in Innovation Quarter, in the building that formerly housed Inmar Intelligence.
While a site in Innovation Quarter's planned Phase II development was originally considered for the Eye Institute, the existing four-story 635 Vine St. location will allow for a shorter construction time and a larger footprint.
The majority of the building will be dedicated to patient care with additional space designed for research and medical education. The location provides convenient parking with easy access for patients.
"For decades, our physicians and staff have done incredible work in managing complicated eye problems and diseases for patients in our five-state drawing region, so this new facility will allow us to provide the same outstanding care, but in a more comprehensive, state-of-the-art facility," said Dr. Craig Greven, ophthalmologist at Wake Forest Baptist and Richard G. Weaver professor and chair of ophthalmology at Wake Forest University School of Medicine. "The prevalence of diseases such as macular degeneration, glaucoma, diabetic retinopathy, and cataracts have all increased as our society continues to age, so this extra space will enable us to care for even more patients. Treatments for eye diseases and conditions have become much more complex, and having a dedicated site for these advanced treatments will improve patient outcomes."
The new Eye Institute represents a major investment in Winston-Salem, with substantial funding coming from Atrium Health as a result of the strategic partnership with Wake Forest Baptist announced in October 2020. The remaining funds are being raised through a philanthropic campaign in the community to which several community members have already made substantial commitments.
"The financial support of our community is crucial to make this truly a world-class facility and we are grateful to everyone who will partner with us to make this project a reality," said Lisa Marshall, chief philanthropy officer and vice president of philanthropy and alumni relations at Atrium Health Wake Forest Baptist.
The facility will feature numerous services and areas for adults and children, including:
Ophthalmology clinic space
Full operating rooms
Procedure rooms and support spaces
Diagnostic imaging and laser suites
Optometry exam areas and optical shop
Research, education and collaboration spaces
Atrium Health Wake Forest Baptist's Department of Ophthalmology currently sees around 100,000 patients each year. This new facility will enable access to meet growing community needs.
In addition to the clinical space, the Eye Institute will support the continued growth of Wake Forest University School of Medicine's research and education programs focused on discovering new treatments for eye diseases and – under the supervision and guidance of board-certified faculty members – training the next generation of ophthalmologists and physicians pursuing primary care and other specialties.
"With its combination of innovation, research and education, the new Eye Institute is a perfect fit for the Innovation Quarter in downtown Winston-Salem," said Terry Hales, who leads all innovation district activity in his capacity as executive vice chief academic officer of administration and chief operating officer of the health sciences system for Advocate Health. "This announcement continues the great momentum we have seen in new activity here over the last year and we look forward to seeing the collaborations that will arise in the space of eye health as a result of this important addition to our innovation district."
Renovations to the building are expected to begin in 2024.
Those who would like more information on providing philanthropic support for the project can visit Giving.WakeHealth.edu/GivetoEyeCare.
Media contacts:
Joe McCloskey, jmcclosk@wakehealth.edu; Jenna Kurzyna, jkurzyna@wakehealth.edu