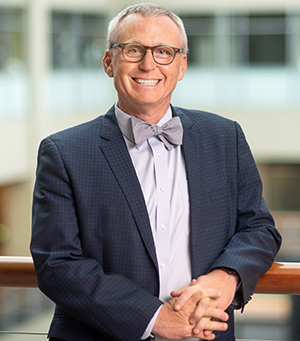 Atrium Health Wake Forest Baptist has selected Dr. David Zaas as the next president of the health system. He will also hold a faculty appointment as professor of internal medicine at Wake Forest University School of Medicine.
Zaas succeeds Dr. Kevin High, who is transitioning to a new role as vice chief academic officer, academic learning health system, for Advocate Health, of which Wake Forest Baptist and Wake Forest University School of Medicine are the academic core.
As president, Zaas will have executive responsibility for Wake Forest Baptist's clinical enterprise, including all patient care services, operations, strategy and growth. This includes inpatient hospitals, outpatient clinics, physician management, and oversight of co-management teams, nursing, administration and support services.
Zaas is an accomplished leader in academic medicine. He most recently served as the CEO for the Medical University of South Carolina (MUSC) Health Charleston Division and the MUSC Shawn Jenkins Children's Hospital, as the chief clinical officer for MUSC Health, and as a faculty-appointed professor of medicine at the MUSC College of Medicine.
Prior to joining MUSC, he served as president of Duke Raleigh Hospital and vice chair of the Department of Medicine at Duke University School of Medicine, among other leadership roles.
"I am thrilled to welcome Dr. Zaas to Atrium Health Wake Forest Baptist," said Dr. Julie Freischlag, CEO of Atrium Health Wake Forest Baptist, chief academic officer at Advocate Health and executive vice president of health affairs at Wake Forest University. "He is an accomplished leader in academic medicine as a physician, scientist and educator, and he will help guide us, as the academic core of Advocate Health, as we work together to improve the lives of those in our communities, our nation and the world."
As a pulmonary and critical care medicine physician, Zaas has an interest in advanced lung diseases and lung transplantation. His research focused on improving outcomes from lung transplantation and he is actively engaged in the education of students and graduate trainees.
A graduate of Yale University, Zaas earned his medical degree from Northwestern University and his MBA from Duke University. He completed his residency in internal medicine at The Johns Hopkins Hospital and his fellowship training in pulmonary and critical care medicine at Duke.
Zaas is married to Aimee, who is also a physician. She is a professor of infectious diseases at Duke University School of Medicine and the program director for the internal medicine residency program. They have two sons, 19-year-old Jake and 17-year-old Jonah.
"I am so privileged to join the outstanding team at Atrium Health Wake Forest Baptist at such a pivotal time, and I am extremely grateful for this unique opportunity," Zaas said. "With its rich, 100-year legacy of excellence, Wake Forest Baptist is one of the top academic health systems in the country. I am excited to help build on its strong foundation to prepare us for the next 100 years and help us make an even greater impact on the health of our communities throughout the state and beyond."
Although High is transitioning into a new role, he will continue to see Wake Forest Baptist patients in internal medicine and infectious diseases, accelerate the translation of innovations into clinical care and will continue his research activities with Wake Forest University School of Medicine's Sticht Center for Healthy Aging, as he helps older patients live better, longer and healthier lives.
High has been with Wake Forest Baptist for 30 years, serving as president for the past eight years. During that time, he has led the organization in significant growth and his teams have helped provide new and innovative services to meet the needs of the community.
Freischlag said Zaas and High will work closely with her and other leaders to integrate the clinical, research, education and innovation goals as an academic learning health system across the Advocate Health system.
Media contact: Joe McCloskey, jmcclosk@wakehealth.edu