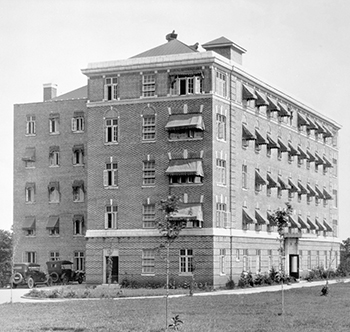 North Carolina Baptist Hospital, now known as Atrium Health Wake Forest Baptist Medical Center, will officially mark 100 years of caring on May 28.
The hospital opened its doors on May 28, 1923, with a simple commitment: to be a place of healing and teaching.
Planning began in 1919, when the Baptist State Convention of North Carolina held its annual meeting and appointed a special commission to seek a location for North Carolina's first Baptist hospital. The goal was to create a network of hospitals to care for the state's poorest and neediest patients.
An 11-acre tract of land in Winston-Salem's Ardmore section was chosen as the site for the hospital.
Construction took about two years, and on May 28, 1923, North Carolina Baptist Hospital opened, with five floors and 88 beds. Fred Trivette, who would grow up to be a North Carolina highway patrolman, was the first baby born on the hospital's opening day.
Read the Centennial feature story, "A House of Healing."
Today, the hospital is an 885-bed tertiary care center that treats families from across the region and the Wake Forest Baptist health system has grown to include five community hospitals, more than 300 primary and specialty care locations, 2,700 physicians, 4,000 nurses and more than 20,000 employees.
"In addition to providing world-class care, this hospital is a thriving part of research and education for Wake Forest University School of Medicine, and now as the academic core of Advocate Health, the sky is the limit on what we can accomplish together," said Dr. Julie Ann Freischlag, CEO of Atrium Health Wake Forest Baptist, chief academic officer of Advocate Health and executive vice president for health affairs at Wake Forest University. "We are confident that we will continue to uphold our legacy by adding clinical services, making advancements in research, developing innovations to bring treatments to patients quicker and educating generations of health care leaders."
Medical firsts and research discoveries
Throughout the decades, North Carolina Baptist Hospital has made history with a number of medical firsts and significant research discoveries that have elevated care in the state, across the country and around the world, including:
First in the world to successfully use MRI to diagnose blockages in blood vessels leading to the heart
First in the world to engineer laboratory-grown organs that were successfully implanted into humans
Invention of the Wound VAC to help treat large wounds
First in U.S. to reattach a severed hand
First in U.S. to use ultrasound to detect prostate cancer
First in N.C. to use cobalt to treat cancer patients
First in N.C. to successfully open a blocked artery using a laser
First CAT scanner in N.C.
Clinical growth
North Carolina Baptist Hospital and the Wake Forest Baptist health system have grown over the years, and have added services, including:
1970: The Abdominal Organ Transplant Program was established. This is the largest program in N.C. and one of the busiest in the Southeast.
1980: The Burn Center opened and is one of only two burn centers in N.C.
1982: Level I Adult Trauma Center was established.
1986: Brenner Children's Hospital opened through a generous gift from the Brenner family.
1986: AirCare began. Today, helicopters are located at three sites across the region with critical care ambulances at affiliated hospitals.
1997: The J. Paul Sticht Center on Aging and Rehabilitation opened. This was the first facility in the world with geriatric acute care, transitional care, psychiatry and rehabilitation under one roof.
2004: The Comprehensive Cancer Center opened, with a six-story addition in 2013. This facility includes both outpatient and inpatient cancer care. As the only National Cancer Institute-designated Comprehensive Cancer Center in the region, the care provided is in the top 5% nationwide.
From 2008 to 2018, community hospitals joined the Wake Forest Baptist family, in Davidson, Davie, Guilford and Wilkes counties.
2011: Brenner Children's Hospital opened a new emergency department and was designated a Level I Pediatric Trauma Center, the first in N.C.
2019: The Birth Center opened at Wake Forest Baptist Medical Center and the Dale and Karen Sisel Neonatal Intensive Care Unit opened at Brenner Children's Hospital.
2020: Wake Forest Baptist Health combined with Atrium Health, becoming Atrium Health Wake Forest Baptist.
2022: Wake Forest University School of Medicine became the academic core of Advocate Health, one of the largest health systems in the country, which was created through the combination of Atrium Health and Advocate Aurora Health.
2022: Ground was broken on a new $450 million critical care tower. The investment in this world-class facility will transform emergency, surgical and critical care throughout the region.
View the historical timeline, "Milestones of Caring."
Education programs
From its beginning, the hospital has served the community, and the region, through education programs, including:
The School of Nursing, which trained nurses from 1923 to 1974 and whose alumni continue to support nurses through generous scholarship funds.
Wake Forest College's medical school, which moved from its campus in Wake Forest, N.C. to Winston-Salem in 1941. Bowman Gray School of Medicine opened with 75 students and the first class graduated in 1943.
Creating separate schools in medical technology, cytotechnology, X-ray technology, nurse anesthesia, medical records librarians, practical nursing and pastoral counseling from 1942 to 1944.
Today, more than 1,200 students learn at Wake Forest University School of Medicine, including the MD, PA, Nurse Anesthesia, Doctor of Nursing Practice and graduate programs.
The hospital plays a pivotal role in research and education for Wake Forest University School of Medicine, a nationally-known leader in groundbreaking research and experiential medical education, and the academic core of Advocate Health. A second campus of the medical school is being built in Charlotte, which will help expand research and education and train even more medical professionals.
Community Needs and Health Equity
Over the years, the hospital and medical school have continued to focus on meeting the needs of the communities they serve, expanding health equity and creating a place where all belong:
The Wake Forest Baptist health system provided more than $611 million in community benefits during the 2021 fiscal year – the largest total in its history – which includes unreimbursed care, charity care, education and research, and community health improvement.
In the early 1960s, the medical center hired its first Black resident and the city of Winston-Salem's first Black pediatrician. The medical school and hospital also adopted desegregation policies in education, employment and patient care.
Throughout the 1960s, the hospital hired the first Black operating room nurses and the first physician and clinical instructor of surgery. The medical school also enrolled the first Black student, who graduated in 1972 as a physician.
Today, the Office of Diversity, Equity, and Inclusion is committed to creating an environment of inclusion where all patients, families, staff, faculty, trainees and students belong.
Read more in "Barrier Breakers."
"As we continue to learn from our past, we know there is much more we need to do to grow as an inclusive organization focused on addressing health equity in the communities we serve," Freischlag said.
The hospital's commitment to community engagement and health equity has continued to grow through programs and efforts including:
"In the next 100 years, we know that by working together, we will continue to meet the growing needs of those we serve and make lasting impacts to improve health, elevate hope and advance healing, for all," Freischlag said.
Wake Forest Baptist will continue its centennial celebrations through May 2024. Learn more at wakehealth.edu/centennial.
Media contacts:
Joe McCloskey, jmcclosk@wakehealth.edu
Jenna Kurzyna, jkurzyna@wakehealth.edu