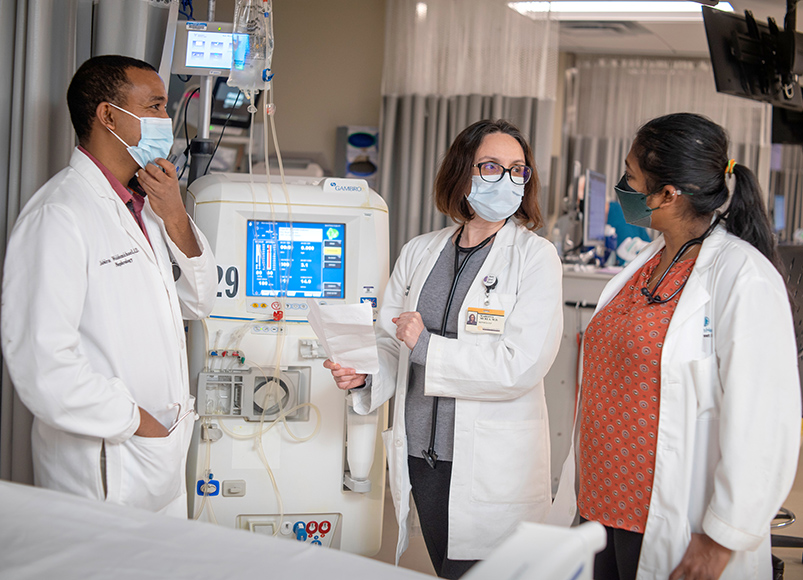 The Patient-Centered Outcomes Research Institute (PCORI) recently awarded researchers at Wake Forest University School of Medicine $10.2 million to study the effectiveness of an individualized model of hemodialysis, a procedure in which the blood is cleaned by a dialysis machine. The project is a collaboration between the School of Medicine, the Renal Research Institute and other health care systems across the country.
According to the World Health Organization, kidney disease is the 10th leading cause of death worldwide. The Centers for Disease Control and Prevention estimates that 1 in 7 or about 15% of adults in the United States (37 million people) have chronic kidney disease, a condition that occurs when the kidneys are weakened and do not clear waste, toxins and excess fluids from the body. When the kidney disease reaches advanced stages, kidney assistance therapy with dialysis often becomes necessary. Hemodialysis is the most used dialysis treatment.
"We must recognize that each individual with advanced kidney disease has unique needs—especially when hemodialysis is introduced to their care," said Mariana Murea, M.D., associate professor of nephrology at Wake Forest University School of Medicine and the lead principal investigator of the study. "In our study, we implement an individualized approach to hemodialysis care where we continuously tailor hemodialysis treatments to each individual's medical needs."
According to Murea and Peter Kotanko, M.D., research director at the Renal Research Institute and co-principal investigator of the study, around 25 to 50% of people who begin hemodialysis have residual kidney function and might not need the conventional, full-dose, three times a week hemodialysis from the outset.
With funding support from PCORI, the research team and partnered stakeholders will study individualized hemodialysis as a dynamic treatment, starting with twice a week hemodialysis—later increased to three times a week or more frequent hemodialysis according to the clinical manifestations of each individual.
We want to improve the quality of life for people treated with hemodialysis, keep them healthier to get a kidney transplant, and offer a more natural journey through hemodialysis, thoughtful of their daily routine and employment necessities," Murea said. "We think individualized; incrementally prescribed hemodialysis encompasses all these aspirations."
Consistent with the patient-centered objectives of the study, the research team has also partnered with the American Association of Kidney Patients (AAKP) and Home Dialyzors United (HDU) to analyze and compare clinical safety (emergency department visits, hospitalizations and mortality) and patient- and care partner-reported health-related quality of life in a five-year, multi-center randomized clinical trial titled, "Comparative Effectiveness of an Individualized Model of Hemodialysis Versus Conventional Hemodialysis: The TwoPlus Trial."
"AAKP is fully committed to the principle of patient consumer care choice and to the end of cookie-cutter approaches to dialysis that have defined status quo kidney care since the 1970s. Kidney patients have the same aspirations as any other American including the opportunity to pursue meaningful work in a career path of their choice, own a home, start a family and retire securely," said Edward V. Hickey, III, the president of AAKP. "This research will help professionals gain insights on how best to tailor treatments to support the aspirations of patients while moving us further past dialysis as a driver of disability, dependency and despair."
Both AAKP and HDU endorsed the efficacy of this research effort in letters to PCORI on behalf of Wake Forest University School of Medicine.
"This project was selected for PCORI funding not only for its scientific merit and commitment to engaging patients and other health care stakeholders, but also for its conduct in real-world settings. It has the potential to answer an important question about kidney function-based individualized hemodialysis and fill a crucial evidence gap," said Nakela L. Cook, M.D., the executive director of PCORI. "We look forward to following the study's progress and working with Wake Forest University School of Medicine and the Renal Research Institute to share its results."
Media Contact: Myra Wright, mgwright@wakehealth.edu