A music therapy space is now open for patients of Atrium Health Wake Forest Baptist Brenner Children's Hospital.
Sophie's Place is a dedicated room that offers healing music therapy for children being treated for serious illnesses or injuries at the area's only children's hospital.
It is named in honor of Sophie Rose Barton, a young singer-songwriter and musician who volunteered her time at Primary Children's Hospital in Salt Lake City, Utah. When Sophie passed away unexpectedly at the age of 17, her parents wanted to create a place that celebrated her love for music and her desire to help others. Sophie's Place was born to carry on her legacy and love of music.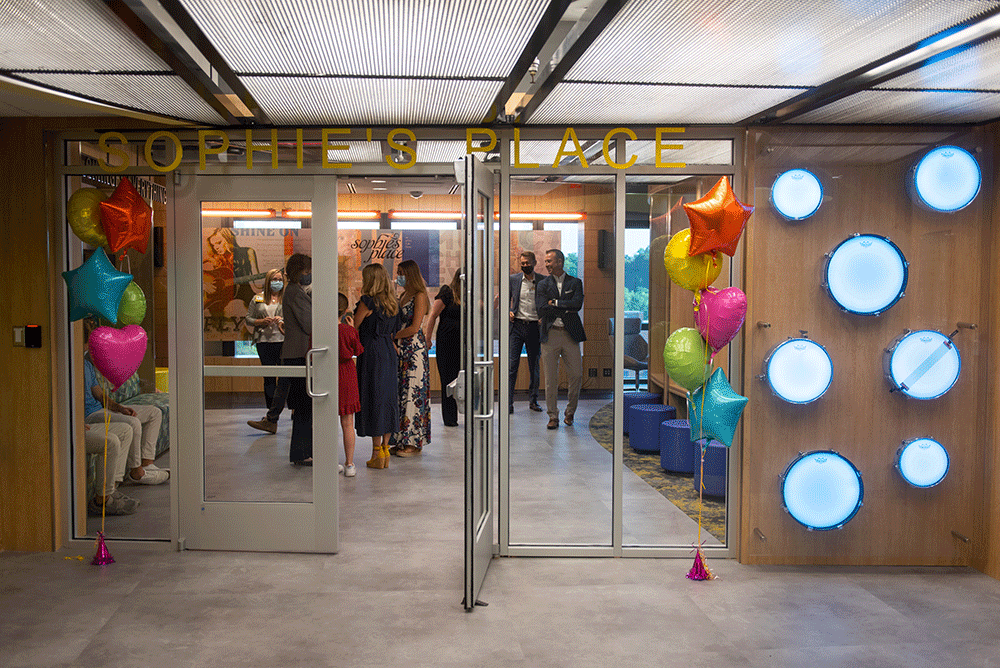 "We are thrilled to have this incredible space that uses music to promote healing and provides an environment to help children manage their stress and express their feelings," said Alisa Starbuck, president of Brenner Children's Hospital.
Brenner Children's is the fifth Sophie's Place location in the country and the only one in the Southeast.
"We are very grateful to our generous donors and our community who have made this project possible and who have made this space available to children who are hospitalized at Brenner Children's," said Lisa Marshall, chief philanthropy officer and vice president at Atrium Health Wake Forest Baptist.
Sophie's Place was made possible through a network of friends who stretch from High Point to Salt Lake City, including Sophie's parents, Kent and Anne-Marie Barton, NFL Hall of Fame quarterback Steve Young and his Forever Young Foundation and Jason and Jeff Harris, owners of Furnitureland South in High Point, along with many donors across North Carolina who supported this innovative program at Brenner Children's.
"Research has shown that music therapy has so many health benefits, alleviates pain, helps ease anxiety and depression and assists in fine and gross motor skill development," said Barb Young, co-chair of the Forever Young Foundation. "Steve and I, along with Sophie's parents and our Forever Young Foundation are honored to partner with Brenner Children's Hospital in building Sophie's Place, which brings hope, healing and harmony to the children being treated."
The welcoming space, with comfortable couches and a carpeted floor, enables young patients to strum guitars or play drums that are easily accessible at arm's reach along the walls.
The space also includes a music lab to record and edit music made by patients as well as a stage for professional musicians to perform and bring their music to the children. For young songwriters, Sophie's Place is an opportunity to create and record their own music. Lainey Raab, a board-certified music therapist at Brenner Children's Hospital, works with the patients to allow them to experience music in the ways most comfortable to them through songwriting, creating a band with their care team or learning a new instrument.
"We are thrilled to help make this a reality here at Brenner Children's Hospital," said Jason Harris, co-owner of Furnitureland South. "This room is absolutely spectacular. We have a heart for Brenner Children's Hospital, and we're fortunate as a business to be able to give."
While construction was completed in 2021, the space has not been open to patients until recently, due to COVID-19 precautions.

Media contacts:
Joe McCloskey, jmcclosk@wakehealth.edu
Jenna Kurzyna, jkurzyna@wakehealth.edu