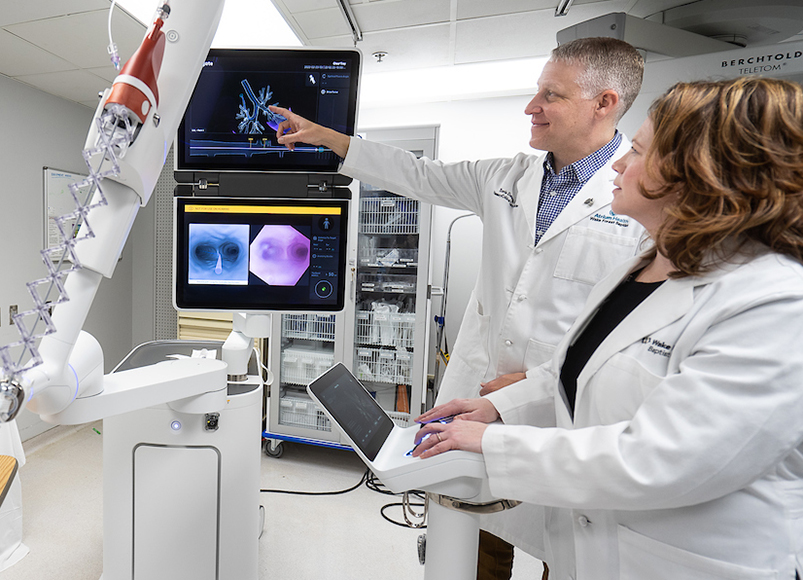 A new artificial intelligence (AI) tool is helping physicians at Atrium Health Wake Forest Baptist better predict and diagnose lung cancer in patients.
Wake Forest Baptist was the first academic medical center in the U.S. to begin using this technology, which is still not widely available across North Carolina and much of the country.
Through training on more than 70,000 computerized tomography (CT) scans, the AI tool can predict the likelihood of lung cancer based on imaging nodule characteristics and classify patients into high-risk, intermediate-risk, or low-risk categories.
This technology helps pulmonologists and radiologists better detect and track suspicious lung nodules that are cancerous in order to identify patients who should receive timely biopsies and treatment, while reducing unnecessary biopsies for patients who are classified as low risk.
According to the National Cancer Institute, lung cancer kills more Americans than any other cancer. Early detection can reduce deaths, but false-positive results often lead to increased anxiety and follow-up imaging.
"We are proud to be an early adopter of proven and innovative technologies that enable our clinicians to identify and treat lung cancer at their early stages when it's possible to cure the cancer," said Dr. Christina Bellinger, director of Wake Forest Baptist's interventional pulmonary program and associate professor of pulmonary, critical care, allergy and immunologic diseases at Wake Forest University School of Medicine. "The exciting part of this artificial intelligence lung cancer prediction tool is that it enhances our decision making, helping doctors intervene sooner and treat more lung cancers at an earlier stage."
Bellinger and her Wake Forest University School of Medicine colleagues were involved in a study, led by the University of Pennsylvania, and published in Radiology, that found computer-aided diagnosis improves risk assessments for pulmonary nodules that are unclear and helps clinicians better recommend earlier treatment options for patients.
In addition to the AI tool, Wake Forest Baptist uses robotic bronchoscopy to help Bellinger and other specially trained physicians on her team reach and diagnose small lung nodules that are difficult to access through traditional bronchoscopy.
"This technology is already changing lives," Bellinger said. "We are getting better samples, diagnosing cancer earlier and improving patient outcomes."
Wake Forest Baptist's lung cancer screening program is a Screening Center of Excellence, designated by the Lung Cancer Alliance, and the health system's Comprehensive Cancer Center is one of only 53 to carry the National Cancer Institute designation.
The AI tool is developed by Optellum and the robotic bronchoscopy platform is developed by Intuitive.
Media contacts:
Jenna Kurzyna, jkurzyna@wakehealth.edu
Joe McCloskey, jmcclosk@wakehealth.edu