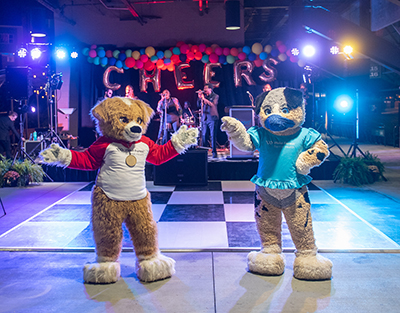 This year's Cheers! fundraiser to support patients and families at Atrium Health Wake Forest Baptist Brenner Children's Hospital raised $463,693, the most the event has ever raised during an in-person fundraiser. Over the last 18 years, this event has raised more than $2 million for Brenner Children's.
The annual event was held Nov. 4 at Truist Stadium with Simply Southern as the presenting sponsor who matched donations dollar for dollar up to $200,000.
"Cheers! for Brenner Children's would not be possible without the financial support of our community members and sponsors," said Lisa Marshall, chief philanthropy officer at Atrium Health Wake Forest Baptist. "Year after year, individuals and businesses in this community answer the call to help fund the mission of our region's only children's hospital.
We are extremely thankful for Simply Southern and their impactful commitment by not only sponsoring this event, but for inspiring others to donate through their matching gift donation. We are also thankful for our emcees, Chad and Meredith Tucker, for sharing their family's journey."
Some of the ways funds raised from Cheers! benefit Brenner Children's include assisting families with medications, travel expenses and meals, providing enhanced pain management therapies for patients, securing necessary home health equipment and providing support for bereavement programs and services.
"The goal of this event every year is to inspire others to help make a lasting impact on the health care for our young patients, research for our communities and our next generation of physicians and health care providers," said Alisa Starbuck, president of Brenner Children's Hospital. "We are grateful for everything our sponsors do for our patients and families at Brenner Children's."
The 19th annual Cheers! event is scheduled for Friday, Nov. 3, 2023.
Media contacts:
Jenna Kurzyna, jkurzyna@wakehealth.edu; Joe McCloskey, jmcclosk@wakehealth.edu