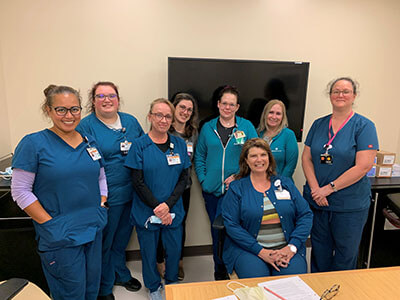 Atrium Health Wake Forest Baptist Davie Medical Center's core laboratory has received accreditation from the College of American Pathologists (CAP), the world's largest organization of board-certified pathologists and a leading provider of laboratory accreditation programs.
Hospital laboratories play an essential role in accurately diagnosing diseases and other medical conditions, and they provide proper guidance for clinical doctors in determining the most appropriate and effective treatments for their patients.
The lab at Davie Medical Center performs a wide variety of services for both inpatients and outpatients, from bedside glucose monitoring to diagnostic testing.
"The College of American Pathologists is the gold standard for accreditation, and we are honored to have this accreditation," said Sheila Blanton, lab director at Davie Medical Center. "This is a symbol of our commitment to quality and the highest standards of excellence for our patients."
Hospital labs are required to meet strict standards to verify that they are providing safe and reliable test results and services for their patients. Laboratory accreditation is the process by which this verification is achieved.
The CAP is considered to be the most rigorous choice for lab accreditation, commonly exceeding the standards of state and federal agencies, such as CLIA (Clinical Laboratory Improvement Amendments), FDA and OSHA.
Davie Medical Center's core laboratory is one of more than 8,000 CAP-accredited facilities worldwide.