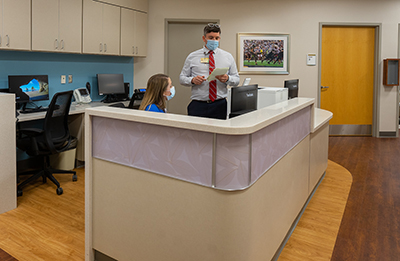 Atrium Health Wake Forest Baptist has opened a new clinic to provide advanced evaluation and treatment for patients experiencing back pain, neck pain, spine injuries and related conditions.
Orthopaedics & Spine Care – Medical Plaza Miller is led by David O'Brien, M.D., a fellowship trained spine specialist with more than 30 years of experience. O'Brien is board certified in three specialties: physical medicine and rehab, pain medicine and sports medicine.
"Our nationally renowned team is dedicated to providing convenient access to those who are suffering from spine, back, neck and joint pain," said O'Brien, who is also an associate professor of orthopaedic surgery at Wake Forest University School of Medicine. "We work closely with our spine specialists, physical and occupational therapists, and our surgeons to provide the most comprehensive care for patients throughout our region and help restore their quality of life."
Patients receive an evaluation and non-surgical care for spine, back, neck and joint pain, pinched nerves, carpal tunnel syndrome, sciatica and sports injuries. Treatments include epidural steroid injections, joint injections, nerve block injections, spinal procedures, radiofrequency ablation, and electromyography and nerve conduction testing (measuring the electrical activity of muscles and nerves).
Orthopaedics & Spine Care – Medical Plaza Miller serves as a starting point for spine care, providing expert evaluation and non-surgical treatments, and assisting patients in navigating the clinical pathway to recovery. If surgery is needed, patients can be connected with one of Wake Forest Baptist's spine surgeons at Spine Center – Davie or Spine Center – Clemmons.
Orthopaedics & Spine Care – Medical Plaza Miller is now open at Wake Forest Baptist's Medical Plaza Miller, located at 131 Miller St., 2nd Floor in Winston-Salem. Hours are Monday through Friday 8 a.m. to 5 p.m. and patients can schedule an appointment by calling 336-713-0910.
Media contact: Joe McCloskey, jmcclosk@wakehealth.edu