Atrium Health Wake Forest Baptist Medical Center has been recertified as a Comprehensive Stroke Center – the highest designation possible – by The Joint Commission.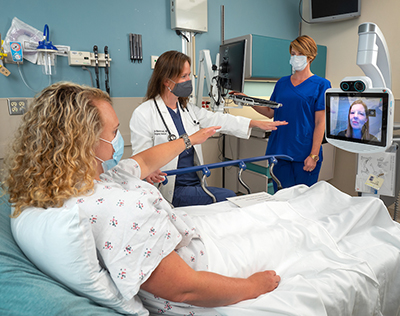 The distinction recognizes hospitals such as Wake Forest Baptist that have the infrastructure, stroke neurologists and neurosurgeons, staff and training to treat patients who suffer the most complex strokes. Atrium Health Carolinas Medical Center is also among the Comprehensive Stroke Centers who received this recertification.
"We are part of the largest and most experienced stroke network in the region, so people who suffer a serious stroke can be confident that they will receive the most expert and leading-edge care and rehabilitation possible," said Dr. Amy Guzik, associate professor of neurology at Wake Forest University School of Medicine and director of Wake Forest Baptist's Comprehensive Stroke Center.
"Our entire team of highly skilled and trained clinicians is dedicated to continuing to elevate the level of care we provide to our patients, leading groundbreaking research that helps transform stroke care in communities across the country, and educating the next generation of stroke physicians to become leaders in the field."
Wake Forest Baptist's stroke program underwent a rigorous on-site review earlier this year. Joint Commission experts reviewed compliance with required standards for complex stroke care including:
Advanced imaging capabilities
Dedicated neuro-intensive care beds staffed by neuro-critical care trained physicians
24/7 availability of board-certified stroke neurologists, neurosurgeons and staff who can care for complex stroke patients
24/7 availability of specialized treatments at the medical center and its Telestroke Network of more than 20 community hospitals throughout North Carolina
Participation in stroke research
Wake Forest Baptist was one of the first hospitals in North Carolina to receive certification as a Comprehensive Stroke Center in 2013 and has maintained that designation ever since.
The Joint Commission, founded in 1951, is the nation's oldest and largest standards-setting and accrediting body in health care.