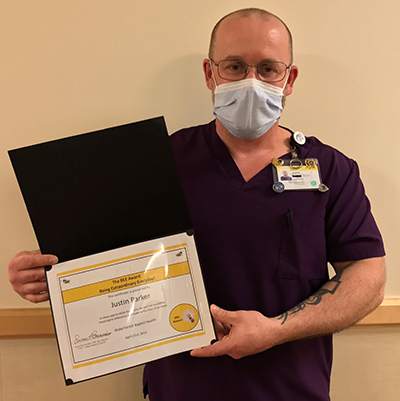 Atrium Health Wake Forest Baptist Wilkes Medical Center has announced its most recent BEE Award Winner, Justin Parker, a certified cardiovascular technician (CCT).
The BEE Award recognizes team members outside of nursing and coincides with the DAISY Award, which honors nurses. The BEE award was created because, just as in nature, bees are loyal and hardworking. The bee cannot exist without the daisy and the daisy cannot exist without the bee.
When asked why he became a certified cardiovascular technician (CCT), Justin said, "I'm a carpenter by trade. I grew up in the construction business. Little did I know that God would use this to open the doors for me to get into the medical field in my forties.
I was in between jobs when I applied for a position on the Disaster Assistance Response Team (DART) with Samaritan's Purse to train and deploy to set up or construct field hospitals during during/after man-made or natural disasters. I was hired in November of 2016 and was deployed to Iraq December 26 to construct a field hospital in a war zone. Isis was being pushed back into Mosul and the civilian casualties were high. It was my first medical experience not to mention my first war experience. The casualties were mostly women and children with injuries that ranged from blast wounds, complete amputations and gunshot wounds. At times, we would receive so many patients at one time that an all call would go out for medical and non-medical, all hands on deck. It was during this time that I realized my desire to help people was drawing me to the medical field. I went back to school and completed my EMT and Cardiovascular Technician Certifications at the same time and shortly after began my journey in patient care.
After a year of working with Yadkin EMS, I was hired at the Wilkes Medical Center Heart Center in April 2020. It has been the most amazing opportunity to continue to grow in patient care and continue develop my passion for Cardiology. I will forever be thankful to the Heart Center staff, doctors and nurses for making me a part of this family. It is one of the greatest work environments I have ever had the privilege of working in. From my perspective, I was simply doing my reasonable service. Caring for patients is a privilege, and I am humbled and deeply honored to get to serve our patients here at the Heart Center."
Justin's manager, Shawn Dain, said, "Justin is a dedicated and caring employee. He has an excellent rapport with patients and they appreciate the care he shows when working with them. He works very well with his co-workers and providers. As an added note, when not at the hospital, he is an EMT on the weekends, and recently traveled to Ukraine with Samaritan's Purse, to build field hospitals for refugees. Justin is a wonderful member of the Cardiology Wilkes team and we feel very blessed to work with him."
The next BEE award winner will be announced in July 2022.