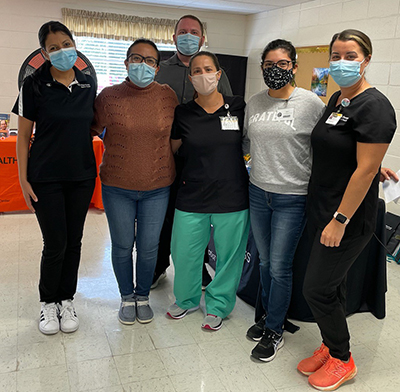 Atrium Health Wake Forest Baptist has received a grant to fund colorectal cancer screenings for people who live in underserved communities.
The one-year, $9,775 grant from the Colon Cancer Coalition allows the health system's Mobile Health Clinic to offer fecal immunochemical tests (FIT) for those without health insurance who live in Forsyth County and other surrounding areas. The test is done once a year and uses antibodies to detect blood in the stool.
"Colorectal cancer screenings have drastically decreased during the COVID-19 pandemic, especially among our patients who are underserved and who would otherwise not have access to this important screening method," said Rachel Zimmer, D.N.P., assistant professor at Wake Forest School of Medicine and founder of the Wake Forest Baptist Mobile Health Clinic. "Our team is pleased to be able to implement colorectal cancer screening in our practice through outreach, education and navigation with follow-up diagnostic colonoscopies if needed.
"We are grateful to the Colon Cancer Coalition for helping us address this preventable, treatable and beatable cancer in Forsyth County and surrounding areas."
The American Cancer Society is supporting the initiative by assisting with quality measures and outcomes evaluation of the program.
The grant was made possible through funds raised at the annual Get Your Rear in Gear event. This year's event, which includes a 5K run, a walk and a kid's fun run, is scheduled for Saturday, March 26 in Winston-Salem.
The Mobile Health Clinic provides a wide range of services to uninsured adults and children, including preventative care, cancer screenings, care for minor illnesses and management of chronic health conditions such as hypertension, diabetes and asthma. Health education, nutrition coaching, no-cost lab services and referrals to specialists are also provided as needed.
Media contact:
Joe McCloskey, jmcclosk@wakehealth.edu