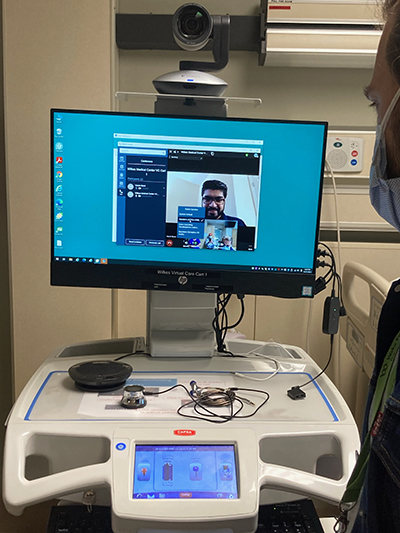 Atrium Health Wake Forest Baptist has launched a new virtual service to better and more quickly meet the needs of patients hospitalized at the health system's hospitals in North Wilkesboro and Lexington.
More than 100 non-acute patients – both with and without COVID-19 – have been seen through the Virtual Hospital program that began Dec. 24, 2021, at Wake Forest Baptist Wilkes Medical Center and in early January 2022 at Wake Forest Baptist Lexington Medical Center.
Here is how it works. Once a patient has given permission to a clinician for a virtual visit, a nurse brings a cart to the bedside – complete with a remote camera, microphone, speaker and stethoscope, allowing a physician within the Atrium Health Wake Forest Baptist system to examine the patient and listen to their lung, chest and bowel sounds.
Atrium Health provided the two carts that are being used at Wilkes and Lexington medical centers.
"Perhaps a silver lining in the COVID-19 pandemic is that it's been a disruptive innovator, forcing health systems to come up with new solutions to meet the needs of their patients," said Harsh Barot, M.D., medical director of the Wake Forest Baptist Virtual Hospital program. "This virtual approach, of course, does not take the place of a clinician at the bedside, but rather extends the reach of physicians and allows more patients to be seen sooner."
Over the past two years, virtual care – often referred to as telemedicine or telehealth – has become increasingly common in both inpatient and outpatient settings throughout Wake Forest Baptist and at hospitals and health systems across the country.
"We are grateful to all of our colleagues and the senior leadership in Charlotte, Winston-Salem, North Wilkesboro and Lexington for their support in helping us quickly set up this program to better serve many of our patients," said Chi-Cheng Huang, M.D., executive medical director of general medicine and the hospital medicine service line with Wake Forest Baptist. "The front line nurses and nursing supervisors at Wilkes Medical Center and Lexington Medical Center have been phenomenal in helping us stand up this innovative initiative in a collaborative manner to allow more of our patients to receive care in their local hospitals and remain close to home."
Media contact:
Joe McCloskey, jmcclosk@wakehealth.edu