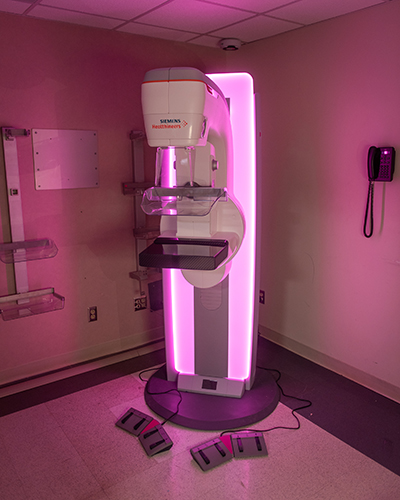 The Comprehensive Cancer Center at Atrium Health Wake Forest Baptist Medical Center in Winston-Salem is the first in the region to offer contrast-enhanced mammography (CEM), an imaging technique that uses iodinated IV contrast in combination with a standard digital mammogram and can help better detect breast cancer.
The technology provides mammography images with better precision – especially in dense breasts – compared to a standard mammogram and is performed at a lower cost to patients compared to an MRI, while still providing accurate results.
Women with dense breast tissue have a higher risk of breast cancer compared to women with less dense breast tissue, according to the American Cancer Society. Radiologists can also have more difficulty identifying cancer in dense breast tissue, since dense breast tissue and breast masses or tumors both look white, enabling tumors to hide in the breast tissue.
The positioning and compression of the breast during a CEM is the same as a standard digital mammogram. However, immediately before the CEM, an IV is inserted into an arm vein for an injection of a contrast agent. The contrast agent makes cancers more visible than on a regular mammogram.
"Contrast-enhanced mammograms are another pivotal and reliable tool we have in the detection and diagnosis of breast cancer and breast health," said Kelly Cronin, M.D., medical director of breast imaging and assistant professor of radiology at Atrium Health Wake Forest Baptist. "Both routine mammography and contrast-enhanced mammography are safe tests and are the best way to detect breast cancer early, which results in the best outcomes for patients."
CEM capabilities are not for every patient and are intended to detect breast cancers for women at an increased risk, evaluation of dense breast tissue, further screening of abnormalities seen on a traditional mammogram or to investigate breast symptoms, such as a breast lump or breast pain. A radiologist will determine if a CEM is needed on an individual basis.
Media Contacts:
Eryn Johnson, eryjohns@wakehealth.edu
Joe McCloskey, jmcclosk@wakehealth.edu