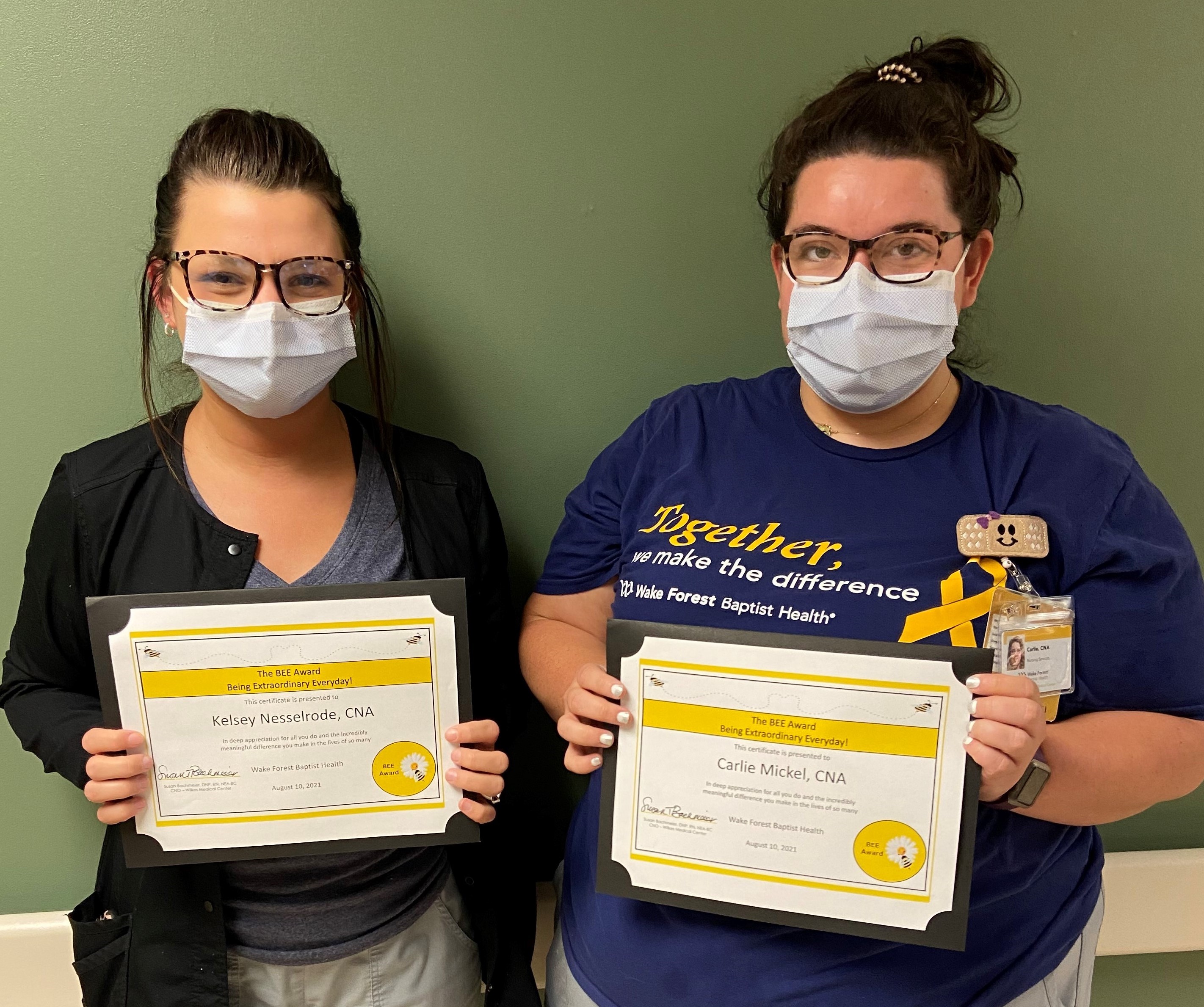 Atrium Health Wake Forest Baptist Wilkes Medical Center announced its most recent joint BEE Award Winners, Kelsey Nesselrode and Carlie Mickel, both of whom are certified nursing assistants (CNAs).
The BEE Award recognizes team members outside of nursing and coincides with the DAISY Award, which honors nurses. The BEE award was created because, just as in nature, bees are loyal and hardworking. The bee cannot exist without the daisy and the daisy cannot exist without the bee.
When asked why she became a CNA, Carlie had this to say: "I became a CNA to honor my Nana who passed away from sarcoma cancer. I know how much my family had been impacted by the care she received on her numerous hospital stays. The radiation and chemo treatments literally drained the life from her and it was up to the hospital staff to help with all her care. I wanted to help give hope to those who had none."
Kelsey stated that becoming a CNA has been the biggest blessing! "I absolutely love being there for my patients and my nurses. Making sure everyone's needs are met and putting a smile on my patients faces is what I strive for most."
Carlie and Kelsey's manager, Debbie Mancusi, RN, had this to say about the joint BEE winners: "Carlie is an experienced nursing assistant and is a valued member of our 2nd surgical team. Even during challenging circumstances, Carlie works hard to take care of her patients with patience and compassion. She is quick to help her teammates and offer support. Carlie has been involved in Quality Improvement projects, such as the Fall Prevention Team to help improve patient safety. She deserves this special recognition from a very appreciative patient she cared for."
"Kelsey enjoys taking care of patients and it shows in everything she does. She has a warm, genuine personality that reassures patients that are anxious or experiencing discomfort. She cares for each patient like they are a member of her family. Kelsey is always willing to help her team with a smile and a positive attitude. She was recognized by a patient who said she provided "spectacular" care".
The next BEE award winner will be announced in October 2021.