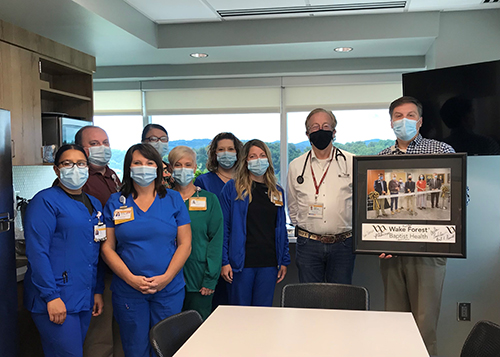 Atrium Health Wake Forest Baptist Wilkes Medical Center is celebrating the first anniversary of Hematology and Oncology – Wilkes, part of Wake Forest Baptist's Comprehensive Cancer Center, the only National Cancer Institute-designated Comprehensive Cancer Center in the region.
"It's an honor to commemorate the one-year anniversary of bringing world-class cancer care to the Wilkes community," said Chad Brown, president of Wilkes Medical Center. "Our patients have access to a multidisciplinary team of experts and leading-edge treatments in a facility designed with their needs in mind."
As part of Atrium Health Wake Forest Baptist, Hematology and Oncology – Wilkes is the culmination of a $6 million investment that provides a state-of-the-art 7,000-square-foot facility including a reception area, renovated pharmacy, nine exam rooms and 12 chemotherapy infusion bays on the first floor of the hospital.
"It has been very rewarding to watch the growth of our hematology and oncology clinic over this last year. I am especially proud of the exceptional care provided by our experienced and dedicated team, offering the latest cancer technologies and treatment options to patients in the region," said Bayard Powell, M.D., section chief of hematology and oncology at Atrium Health Wake Forest Baptist, an academic learning health system. "Patients in Wilkes and surrounding communities now have access to the outstanding cancer care found only at a comprehensive cancer center."
In March 2021, the center also began enrolling eligible patients in clinical trials.
"The year has gone quickly, and we have a wonderful team. We have been growing faster than expected, and I am pleased with the quality care that has been provided," said James Atkins, M.D., hematologist and oncologist at Wilkes Medical Center. "Research is the newest addition to the program, and that has been very successful. Our patients are getting access to new clinical trials and new combinations of medicines that will hopefully lead to future successful treatments."
The clinic opened Aug. 31, 2020 and allows patients to receive the exceptional care they need while also remaining conveniently close to home with the support of their loved ones.
"It seems surreal that we have been serving patients in the area for a year now. We have an amazing team here at Hematology and Oncology – Wilkes that provides exceptional care daily to our patients," said Michelle Kennedy, R.N., nurse manager of the clinic. "Our practice has been growing rapidly, and we look forward to what the future holds for our clinic, cancer research and our patients."