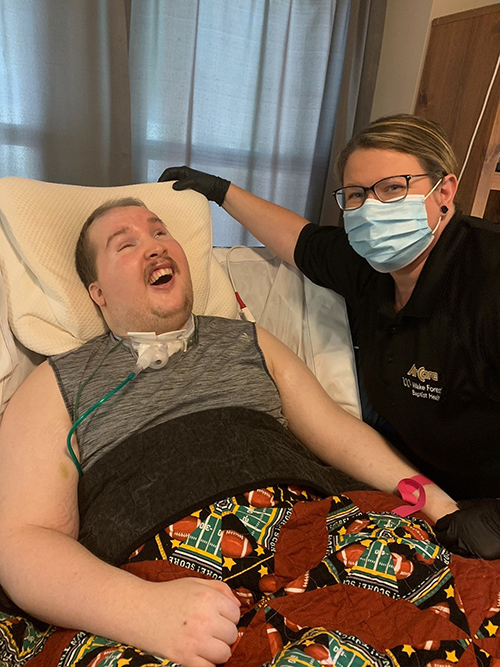 Since Wake Forest Baptist Health launched its Hospitalist at Home program in December 2020, more than 500 patients have been served in their homes throughout the Triad region. The program has also reached patients through virtual visits in 10 other counties across North Carolina.
This unique approach combines telehealth technology with in-home visits by Wake Forest Baptist paramedics and allows patients to be safely cared for at home, reducing the length of time they spend in the hospital.
"In the past six months, we have heard so many stories from our patients and their families who are grateful that they can receive convenient and high-quality care in their own homes, regardless of where they live," said Chi-Cheng Huang, MD, executive medical director of general medicine and the hospital medicine service line with Wake Forest Baptist Health.
One such patient is 27-year-old Landon Walker. In 2011, Walker – who was a standout football player at East Wilkes High School – suffered a traumatic brain injury during an ATV accident. He and his family have become very close with the members of the Wake Forest Baptist Hospitalist at Home team who conduct home visits for Landon.
"Our family is so grateful to be involved with this program," said Tracie Walker, Landon's mother. "The care the team has shown to Landon and to our whole family is so special and has allowed Landon to spend more time at home with his loved ones instead of in the hospital."
The program is modeled after a similar and very successful program in the Charlotte region, operated by Atrium Health that has gained national recognition for its innovation. Wake Forest Baptist is part of Atrium Health.
A patient who is identified as a candidate for the program first discusses the potential benefits with their health care team and then an in-home care plan is developed with the patient before they leave the hospital.
Once a patient transitions into the Hospitalist at Home program, a Wake Forest Baptist paramedic visits the patient at their home while a hospitalist physician reviews the care plan with the patient and paramedic virtually, using either a smart phone, mobile device or computer with a webcam. Virtual telehealth visits and in-person paramedic visits continue until the patient no longer needs to be monitored.
Huang, the Wake Forest Baptist Hospitalist at Home leaders – Padageshwar Sunkara, MD, Raj Nagaraj, MD, and John Blalock – and the entire team, expect the program to continue to grow.
Media Contact
Joe McCloskey, jmcclosk@wakehealth.edu, 336-716-1273