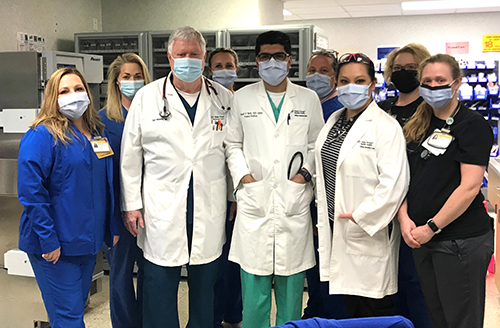 Wake Forest Baptist Health – Wilkes Medical Center has begun enrolling patients in a Phase 2 clinical trial designed to quickly determine the effectiveness of promising drugs that can potentially target the negative effects of the COVID-19 virus in critically-ill patients, and improve patient outcomes for these patients.
The study's "adaptive platform trial design" means several possible drug treatments can be tested at the same time, with the most promising drugs potentially moving forward for further exploration and the least promising being removed from the study. All study volunteers also receive medications approved as standard of care for the virus.
Known as the Investigation of Serial Studies to Predict Your COVID Therapeutic Response with Biomarker Integration and Adaptive Learning (I-SPY COVID Trial), the study is a collaboration among pharmaceutical industry members of the COVID Research & Development Alliance and others; the Quantum Leap Healthcare Collaborative, a partnership of medical researchers and investors; and the Food and Drug Administration.
"There is a desire across the country to bring clinical trials to community hospitals, and since we are part of Wake Forest Baptist Health, we are thrilled to provide this opportunity to our patients and our community," said Harsh Barot, M.D., hospital medicine physician and sub-investigator of the clinical trial at Wilkes Medical Center. "We must do everything in our power to tackle the challenges presented by COVID-19 and by having the ability to constantly evaluate and identify effective treatments in real-time, we can potentially make a difference in the outcomes for our patients."
In September, Wake Forest Baptist Health became the first health system in the country to enroll patients in this clinical trial and is the lead center on the East Coast for the trial.
Barot and the Wilkes Medical Center team are receiving guidance and support from D. Clark Files, M.D., co-principal investigator of the study for Wake Forest Baptist Health and an associate professor of pulmonology and critical care for the health system.
"We are so pleased to be able to extend this clinical trial to our colleagues at Wilkes Medical Center and to the patients we serve in this community," Files said. "Being part of an academic health system such as ours allows Wilkes Medical Center to participate in large-scale clinical trials and gives more patients access to the most advanced treatments, regardless of where they live."