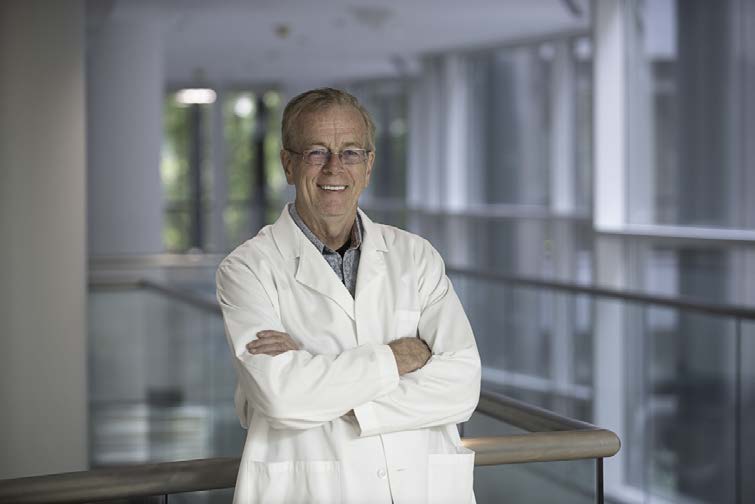 When you or a loved one is diagnosed with cancer, the decisions you make about your cancer care or that of a loved one will be some of the most important decisions you will ever make. The team at Wake Forest Baptist's Hematology and Oncology Clinic in North Wilkesboro is here to help you understand the cancer diagnosis and the treatment options available.
A Team Approach
With nearly 40 years of cancer care experience, James Atkins, medical oncologist at Hematology and Oncology – Wilkes, takes a patient-centric approach to care and customizes each patient's treatment plan to achieve the best outcome for the individual. The Wilkes medical oncology team offers access to the latest cancer therapies and clinical trials, cancer screenings, on-site chemotherapy, PET imaging, lab and pharmacy services.
The cancer team in Wilkes also works closely with other Wake Forest Baptist cancer specialists in radiation, gynecologic and surgical oncology to ensure patients have broad access to innovative treatments and techniques.
A Need for Cancer Care in North Wilkesboro
Hematology and Oncology – Wilkes opened in August 2020 giving patients in North Wilkesboro and the surrounding communities' access to world-class cancer care.
Wake Forest Baptist recognizes the importance of offering access to convenient, high-quality cancer care so more patients can receive care closer to home. On average, 85% of those diagnosed with cancer will seek care close to their home but those in rural locations may not have that option. Hematology and Oncology - Wilkes is proud to provide expert cancer care locally.
Care Connected to an NCI-designated Cancer Center
The Wilkes cancer program is part of the Wake Forest Baptist Health Comprehensive Cancer Center (CCC) network. The CCC is the only center designated by the National Cancer Institute in the Triad and western North Carolina, and is one of only 51 in the country. This designation recognizes deep expertise in patient care, research and clinical trials.
As an academic medical center, Wake Forest Baptist often provides patients earlier access to the latest cancer treatments. Two notable areas of advancement are Precision Medicine and clinical trials.
Precision Medicine is changing the landscape of cancer treatment, allowing more precise and targeted therapies for patients meeting certain criteria. Using the latest DNA sequencing technology, an experienced team of oncologists and geneticists can identify the genetic makeup of a patient's tumor and tailor treatment to specific cancer mutations with the goal of providing the best individualized cancer therapy for each patient.
Wake Forest Baptist's Comprehensive Cancer Center conducts hundreds of research studies each year in an effort to improve health. Clinical trials represent the cutting edge of medicine and are the best way for researchers to find new ways to detect, slow, treat and prevent cancer. A clinical trial today could be the standard of care in the future.
Dr. Atkins has been recognized by the National Cancer Institute Community Oncology Research Program with the Harry Hynes Award for his clinical trial work and community research in rural areas. Dr. Atkins will continue this work and help expand clinical trial access to those in Wilkes and surrounding counties through this new clinic.
Being treated at Hematology and Oncology – Wilkes means you have access to a team of physicians, nurses and staff who take pride in treating their patients with compassion while working to achieve the best outcome for each patient.