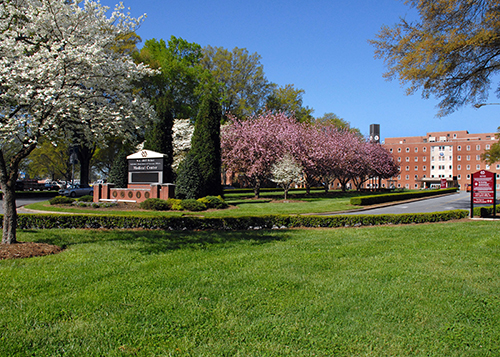 This year marks the 75th anniversary of the Veterans Health Administration (VHA), which partners with academic medical centers to deliver the highest quality health care to Veterans and to train new health care professionals to meet the needs of this unique patient population within the U.S. Department of Veterans Affairs (VA).
The partnership dates back to the end of World War II when the VA faced a shortage of physicians to care for the many Veterans returning home with injuries and illnesses, many requiring lifelong care. To meet these needs, VA Policy Memorandum No. 2 was established, and the VA's affiliation with the nation's academic medical centers began.
Regionally, the W.G. (Bill) Hefner VA Medical Center in Salisbury started its partnership with Wake Forest Baptist Health in 1995. The affiliation includes clinical care, residency training and research.
"This academic affiliation brings the best and brightest to Veterans for care," said Robin Hurley, M.D., associate chief of staff for research and academic affairs at the W.G. (Bill) Hefner VA Medical Center and professor of psychiatry and behavioral medicine for Wake Forest School of Medicine, part of Wake Forest Baptist Health. "This integrated relationship is crucial to our Veterans who receive comprehensive care and have access to the very latest medical technology, research and specialists."
Through academic partnerships, the W.G. (Bill) Hefner VA Medical Center has residency training in specialties such as primary care, psychiatry, ophthalmology, infectious diseases, dermatology, otolaryngology, urology and general surgery. Since 2008, these programs have experienced rapid growth. In 2020, the Center had 750 trainees in these programs.
Through these residency programs, experienced physicians benefit from the teaching environment of the VA.
"I think our physicians at VA are better at what they do because they are working in a teaching capacity," said Randall Gehle, DO, acting chief of staff of the W.G. (Bill) Hefner VA Medical Center. "That to me is the value to VA. When you know that a bright mind is going to be working with you and challenging you in your knowledge base, you're a better doctor. That's one of the biggest benefits."
From an education standpoint, learning in a VA environment is invaluable, according to James Hoekstra, M.D., senior vice president and associate dean, clinical and academic network development for Wake Forest Baptist Health and president of High Point Medical Center and a former VA Medical Center resident.
"The academic affiliation with the VA is a synergistic partnership that has flourished," said Hoekstra. "The relationship has been very beneficial for us and for our Veterans."
For more information about the relationship between the Veterans Health Administration and academic medical centers, visit the U.S. Department of Veterans Affairs.
Media contacts:
W.G. (Bill) Hefner VA Medical Center: Todd Goodman, christopher.goodman2@va.gov, 704-638-9000 ext. 13343
Wake Forest Baptist Health: Myra Wright, mgwright@wakehealth.edu, 336-713-8806