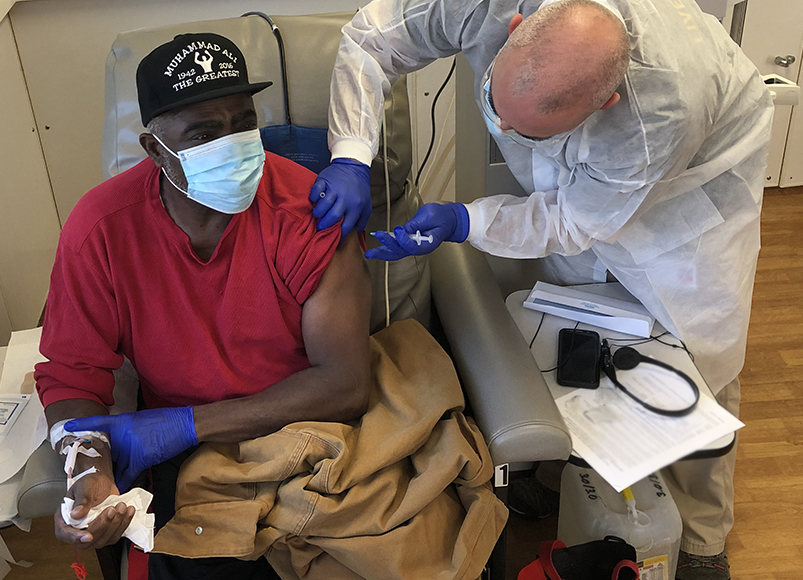 Wake Forest Baptist Health is providing COVID-19 vaccinations to patients 65 years of age and older who receive dialysis treatment at the health system's outpatient dialysis clinics in Winston-Salem and surrounding counties.
Wake Forest Baptist provides outpatient dialysis treatment to approximately 2,100 patients at 18 freestanding centers throughout the region. Almost 1,000 of these patients are 65 years of age or older.
By the end of this week, more than 350 patients 65 and older will have received their first dose of the Moderna vaccine at Wake Forest Baptist's outpatient dialysis clinics. More than 60% of these vaccinations were given to those in historically marginalized populations.
An additional 200 patients on dialysis have received the vaccine at a skilled nursing facility or a local vaccine clinic. This means that more than half of all outpatient dialysis patients age 65 and older will have received their first dose by the end of this week.
"It was a no-brainer for me, and this is another precautionary measure, along with dialysis, to help me function as close to normal as I can," said 65-year old patient Johnny Gattison.
Gattison asked others who may be unsure about receiving the vaccine to pray about the decision. "It will help you now and in the long run," he said. "Think about your family and the ones you care about and love."
"People with kidney disease and who are on dialysis have an extremely high risk of mortality if they contract COVID-19," said Barry I. Freedman, M.D., professor and section chief of nephrology at Wake Forest Baptist Health and chief medical officer of the Wake Forest Baptist outpatient dialysis program. "We are constantly looking for ways to provide vaccinations to our most vulnerable patients. Administering the vaccine when patients come for regularly scheduled dialysis treatments is a safe and convenient way to protect them."
"We are so grateful for the partnership we have with Wake Forest Baptist Health," said Marshia Coe, R.N., chief operating officer for Health Systems Management, which operates Wake Forest Baptist's outpatient dialysis clinics. "Many of our patients are not able to get to a vaccine clinic, so being able to provide the vaccine conveniently in the dialysis center has been a tremendous help to them."
Patients who wish to be vaccinated receive the injection once they complete their dialysis treatment for the day. They are monitored by staff for at least 15 minutes, and second dose appointments are then scheduled for around 28 days later, to coincide with an upcoming dialysis visit.
The health system is expanding vaccination offerings in its outpatient dialysis clinics across the region, as vaccine supply allows.
Media contact: Joe McCloskey, jmcclosk@wakehealth.edu, 336-716-1273