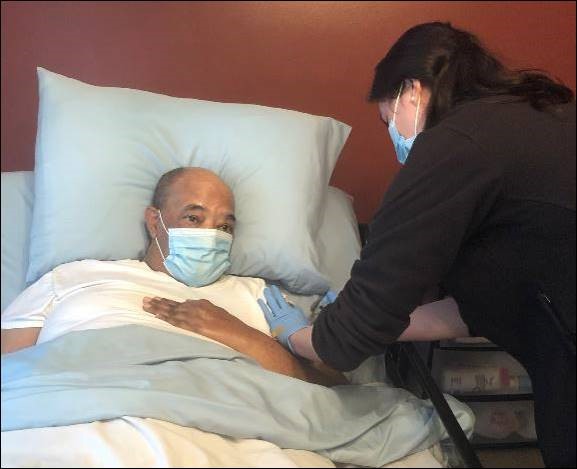 Wake Forest Baptist Health has begun providing COVID-19 vaccinations to its homebound patients who are 65 and older. Their caregivers will also be given the opportunity to receive the vaccine, based on the amount of doses that are available.
(Pictured: 74-year-old Robert Hook of Winston-Salem received his first dose of the COVID vaccine on Feb. 11, 2021 from Christine Barthen, Pharm.D., community pharmacy resident at Wake Forest Baptist Health.)
These patients are part of Wake Forest Baptist's House Call Program, which provides primary care, transitional care following hospitalizations and rehab stays, and palliative care consultations in patients' homes for older adults who have difficulty leaving their homes due to physical or cognitive limitations.
Homebound patients often depend on caregivers and others who come to their home, increasing their risk of exposure to COVID-19.
A Wake Forest Baptist geriatrics provider and community pharmacy resident travel to a patient's home, administer the first dose, monitor the patients and, if needed, manage any adverse reactions. An appointment to receive the second dose is made before the team leaves the home.
"This program is just another example of how our health system is looking at creative ways to take care of our patients and keep our community safe," said Mia Yang, M.D., medical director of the House Call Program and assistant professor of gerontology and geriatric medicine at Wake Forest Baptist Health. "These are some of our most vulnerable patients, they deserve to be protected, and we're committed to bringing the vaccine to them."
The House Call Program is part of Wake Forest Baptist's Sticht Center for Healthy Aging and Alzheimer's Prevention, one of the world's first geriatrics-focused health care centers.
Note: Higher quality photos can be downloaded here.
Media contact: Joe McCloskey, jmcclosk@wakehealth.edu, 336-716-1273