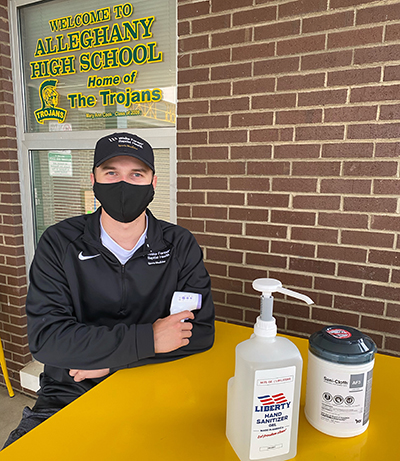 For the past several months, Wake Forest Baptist Health's certified athletic trainers (ATCs) have remained busy, even as the COVID-19 pandemic halted high school sports.
The ATCs assigned to area high schools as part of the health system's Athletic Training Outreach Program have helped schools with a variety of measures to keep students and staff safe.
All of the ATCs in the program have been working with administrators and staff at schools throughout the region on designing and implementing daily screening processes and social distancing measures in classrooms, hallways and restrooms, assisting with classroom setup and student book and laptop pickups, and advising on cleaning procedures and hand sanitizer placement.
"Throughout a typical school year, our ATCs work closely with high school coaches to help keep their student athletes safe and healthy and to treat and help rehabilitate sports-related injuries," said Christopher Ina, M.A., ATC, Wake Forest Baptist's manager of athletic training services. "But as we all know, this year has been anything but typical, so we're pleased to provide these additional services to help keep the entire staff and student body safe and healthy."
Wake Forest Baptist provides sports medicine services to a number of area professional sports teams, universities and school systems, including the Winston-Salem Dash, High Point Rockers, Wake Forest University, Winston-Salem State University, UNC School of the Arts, Winston-Salem/Forsyth County Schools, Wilkes County Schools, Yadkin County Schools, Alleghany High School, Lexington High School, and several public and private high schools in Guilford County.